Are you looking to visit some beautiful friendly towns in the Florida Panhandle? The seaside towns in Florida are some of the most charming in the country.
There are so many beach towns in Florida that is hard to choose from. Thankfully you have already narrowed it down to the Florida panhandle cities.
Now you just need to pick the right one for you.
In the Florida panhandle you'll find quiet villages on the coast between Pensacola and St. George Island.
So pack your swimsuit, SPF, and shades it's almost time for vacation in one of the best beach towns in the Florida Panhandle.
Where is the Florida Panhandle?
The Florida Panhandle is in the northwest of the state. It is known for its Gulf of Mexico shores.
The state capital, Tallahassee, is located in the panhandle, although it is not on the beach. Besides that the Florida panhandle, is full of some of Florida's best beaches. White sugary sandy beaches and some of the clearest water beaches in Florida.
There are so many reasons to visit this part of Florida, but you probably already know that.
Best Towns in the Florida panhandle
These Florida beach spots are worth adding to your list of spots to visit while you are in the panhandle. These great Florida panhandle towns will be perfect for almost any vacation.
This list has high-end resorts, oceanfront rentals, and quiet beach houses.
Check out these places to learn about the local culture, food, and sights. Surely you'll agree that there's something for everyone on the Florida peninsula.
1. St. George Island
St. George Island, on the west side of Apalachicola Bay, is a calm barrier island. The island of St. George stretches for 28 miles from St. Vincent Wildlife Refuge Island to Dog Island.
The island is about 1.5 hours east of Panama City, and there is a bridge from East Point that will take you to the island.
It's close to Apalachicola Bay, which has many places to fish and have fun on the water.
You can enjoy your time there at the Florida State Park or one of the many public beaches. The beautiful park has a lot of hiking trails, places to eat, and beautiful sand dunes.
This is the perfect Florida panhandle escape.
2. Santa Rosa Bay
Santa Rosa Bay is one of the best places to visit in the Florida Panhandle because it has a laid-back beach vibe, that anyone on vacation will love and appreciate.
It is the perfect place for a BabyMoon in Florida or any couple's escape.
Santa Rosa Bay shares the shore with Choctawhatchee Bay that is the center of the panhandle.
Here you will find several charming beach towns and areas to park up and call home as long as your vacation allows you.
Santa Rosa Bay is full of cute little towns to choose form. Some of the famous Santa Rosa towns include Seaside, WaterColor, and Grayton Beach. Santa Rosa Beach has much to do for people who love food, nature, the beach, and shopping.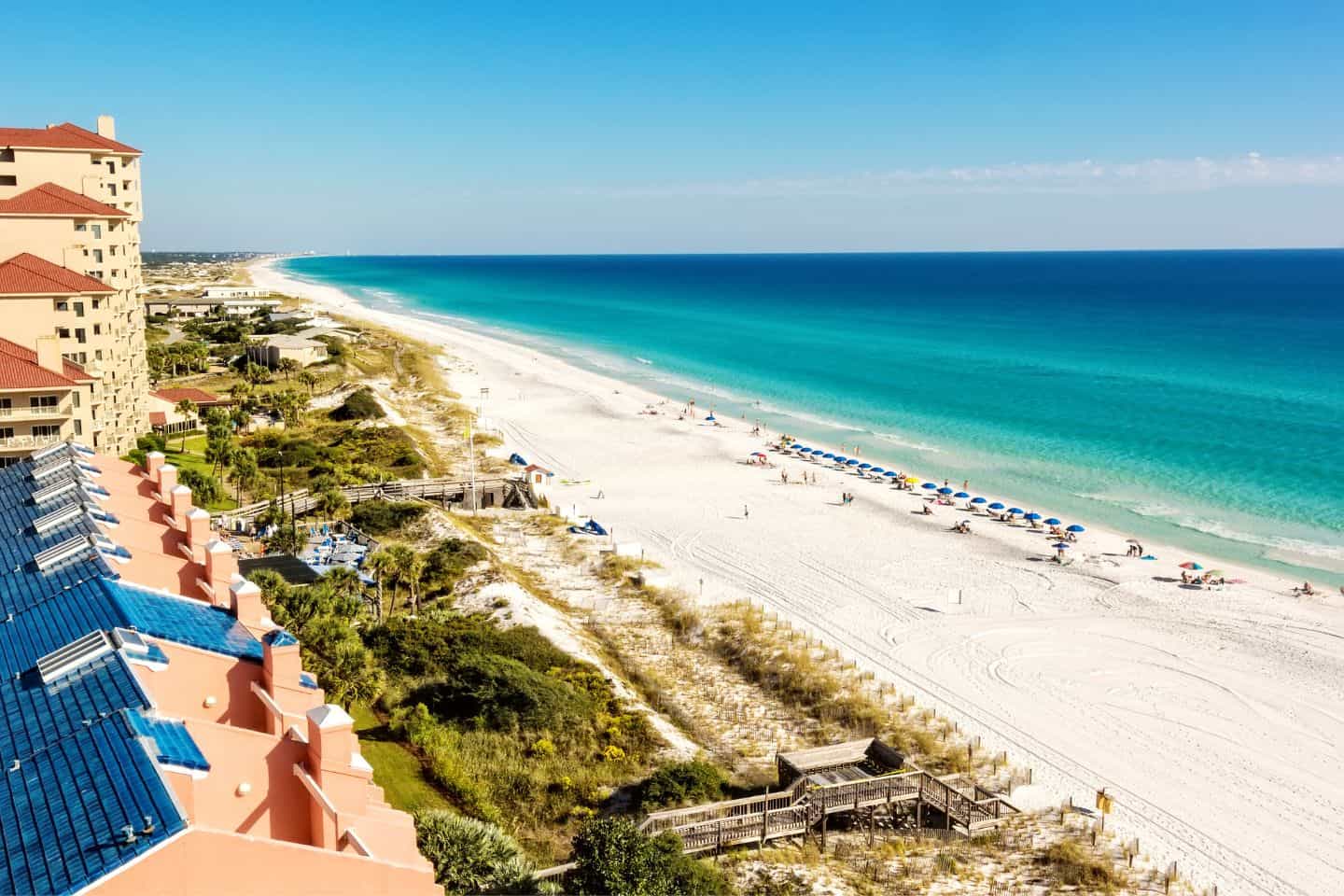 3. Destin
Destin is know as the world's luckiest fishing village. So if you or your partner are looking to do some fishing while on holiday, you might want to choose this destination.
Destin is full of red snapper, grouper, and flounder, just to name a few.
Besides being a well-known fishing town you will enjoy destin harbor boardwalk, full of restaurants, bar and shopping.
There is also always live music to check out while you are in town, which is a nice way to end the day after spending in on the beach or out fishing.
Destin has beautiful beaches that you won't want to miss, including henderson beach state park. It is the perfect Romantic getaway in Florida.
Also, if you are serious about your fishing you might want to consider renting a boat and trying your luck at some deep-sea fishing or maybe visit the nearby crab island.
4. Tallahassee
Tallahassee, the state capital, is home to Florida A&M University and Florida State University.
Is it considered one of the best places to live in the Florida Panhandle that isn't on the water. If you are tired of the beach and want to escape to else to one of the best Florida panhandle cities, Tallahassee is your spot.
People are often confused when they realize that this is Florida's capital city, because it is probably the last place you think of when you think of Florida.
Tallahassee is full of many restaurants, shops, a farmers market, and museums including the Florida historic capitol museum. Because it is a thriving college town, Tallahassee has a strong job market, a rising income and the cost of living is low.
So if you were ever wanting to move to Florida and turn your life into a permanent vacation, Tallahassee might be the spot for you.
5. Port St. Joe
This town is major port for the state of Florida and the place where the state's constitution was written.
The small port town on the upper Gulf Coast of Florida's Panhandle is known for its beautiful beaches and friendly people. It is also one of the most affordable cities on our list. So if you are looking to save some money while on holiday, this could be the spot.
This lovely city on the bay has a beautiful harbor where you can walk in the evening and enjoy the slower passed life that they enjoy in the panhandle.
The Constitution Convention Museum State Park to check out some Florida history, Southern cafes, shops from the early 20th century, and a landmark motel are close by.
Port st. Joe is also just a quick drive to Pensacola beach, a highlight of the Panhandle that shouldn't be missed.
6. Panama City Beach
Panama City Beach is a quintessential beach town, and one of the best towns in the florida panhandle. It is full of nightlife and things to do.
You can also go parasailing over the emerald-green seas below or walk the coast and see dolphins just inshore.
It is the perfect Florida panhandle town to visit if you are looking for something a little more active.
They even have a famous Shipwreck Island water park when you get tired of panama beach, if that is even possible.
Another highlight here, if you need more convincing is coconut creek family park, a great spot for some mini golf.
7. Apalachicola
Apalachicola, on the Gulf of Mexico, is one of the most beautiful places to visit or live in the Florida panhandle.
This town is known for its delicious oysters and seafood.
It is a fairly small town, so if you are looking for places in Florida that are walkable, this is your spot. Many restaurants can be reached on foot from the vacation rentals in town, making it enjoyable to not have to drive everywhere.
Off the main street, you can explore a historic area with Victorian homes with towers and wooden stained-glass churches.
It is a stunning old town, but the highlight of this spot has to be its spacious beaches.
8. Grayton Beach
This small beach town east of Destin has beautiful views, restaurants, and art galleries that are among the best in the world, but it isn't full of people. The perfect hidden gem inside the panhandle.
There are plenty of gorgeous white sand beaches where you will hardly see a sole. So if you are looking for some soul searching, or just the perfect little town with fewer people this is your spot.
9. Point Gator
The small, quaint beach town between the Gulf of Mexico and Alligator Harbor is reminiscent of old coastal Florida, with nature outside the door.
Don't let the name scare you away.
It is the perfect romantic getaway for couples who enjoy their solitude. The beach's cozy 8-mile coastline is ideal for quiet walks to enjoy the beauty of nature.
The town's environment is so clean that the best seawater crabs in the world live in a bay between it and the busy coast of Florida. Which makes for some tasty seafood eating.
Bald Point State Park is only a few minutes away, and you can see animals there while hiking, riding, paddling, or sailing.
10. Seaside
Seaside is a beach resort town west of Panama City Beach. The town has great shops on the sidewalk, gorgeous beaches, and many places to stay within 10 minutes of the downtown.
The streets are full of cute shops, galleries, and cafes. A weekly market, live music outside, and other events held throughout the year bring both tourists and locals to this town.
It is a little move lively town, although it is still quaint and cute.
Live music is played at the 30A Songwriters Festival along the beautiful 30A Freeway.
11. Carrabelle
Carrabelle is an excellent and not-too-crowded beach getaway. There is a lively vibe because of the crab shacks, the Waterfront Festival, and the great bars.
A memorable experience is having dinner at the beachfront restaurant at sundown and eating fresh fish.
You can walk the sunny streets or go to the busy harbor to see dolphins playing in the Gulf and the Crooked River Lighthouse.
12. Inlet Beach
Between Panama City Beach and Destin, Florida, there is a quiet place called Inlet Beach. Due to its long, calm sandy beaches, Inlet Beach is among the best beaches in the Florida Panhandle.
It is also just in between two of the larger towns in the panhandle making it the perfect spot if you want to head to panama city beach for the day.
Inlet beach's water is green, like at Panama City Beach and Rosemary Beach, but with fewer people. Many people enjoy it because it is off the radar and not as popular with the tourists just yet.
Besides that Inlet Beach is among the best places to live in the Florida Panhandle. Every here is friendly and welcoming, making it a great spot to park up and call home while you are on vacation.
13. DeFuniak Springs
DeFuniak Springs is surrounded by beautiful nature and is home to many outdoor activities.
Lake Stanley Park is a great place to hike, fish, and take a boat ride.
The Circle Dive Heritage Centre helps visitors prepare for a day of walking around the town and looking at its Victorian buildings.
From the path around the spring-fed lake, you can spend an afternoon visiting one of the oldest libraries in the state. Just one of the many things to do here.
The mile-long road is excellent for walks with your dog, jogs, and casual hikes. A great spot if you are looking to be more active and if you are looking for fresh water springs.
14. Rosemary Beach
This cute town on the Florida Panhandle is known for its white buildings, lush gardens, and outdoor adventures.
Rosemary Beach has something for everyone. You can ride horses on the beach, hike on nature trails, play sports, shop for local art, or get a spa treatment.
Its soft, fluffy sand beach and clear water make it a great place to relax and enjoy water activities. the perfect spot to visit in the sunshine state.
15. Mexico Beach
Mexico Beach, between Panama City and Port St. Joe, is a charming place to escape on the gulf coast.
This quiet place has 5 miles of white sand beaches and good fishing. The charming town has many holiday homes, the El Governor Hotel, and plenty of restaurants and shops to choose from.
Casual places to eat are Caribbean Coffee and Mango Marley's Watermelon Margaritas. You can drive to Panama City for their nightlife from this small town.
Paddling and exploring the outdoors can be done on many rivers, canals, lakes, and bays.
16. Alys Beach
Visiting this Beach for a vacation you'll be a holiday that you will never forget.
This beautiful beach town on Florida's Route 30A is the perfect place to get away from everyday life.
Alys Beach has something for everyone, from bright Mediterranean architecture to walkways made of oyster shells to world-class restaurants.
You can chill out on the beach or go to one of its exciting art shops.
17. Navarre
One of the most stunning beaches in the state is Navarre.
A cute beach village in between Pensacola Beach and Fort Walton Beach.
Navarre beach, whose name means "peace," is a peaceful place with many ways to unwind.
The Navarre Beach Fishing pier is one of the most beautiful in Florida.
The Science Station, Refuge, Sea Turtle Protection Center, and Navarre Beach Marine Park are all places that are good for families and you will want to check out pensacola beach while you are here.
Also, you can't miss Navarre beach marine sanctuary, it is one of a kind.
18. WaterColor
We can't think of a better beach vacation spot than WaterColor. It is a great place to relax and explore because of the timeless beauty of Florida's Gulf Coast. You will love it so much that it might make you want to live in florida panhandle.
The water is clear, and the beach is white sand so you can swim all day.
There are amusement parks, museums, canoeing, and swimming, among other things to do.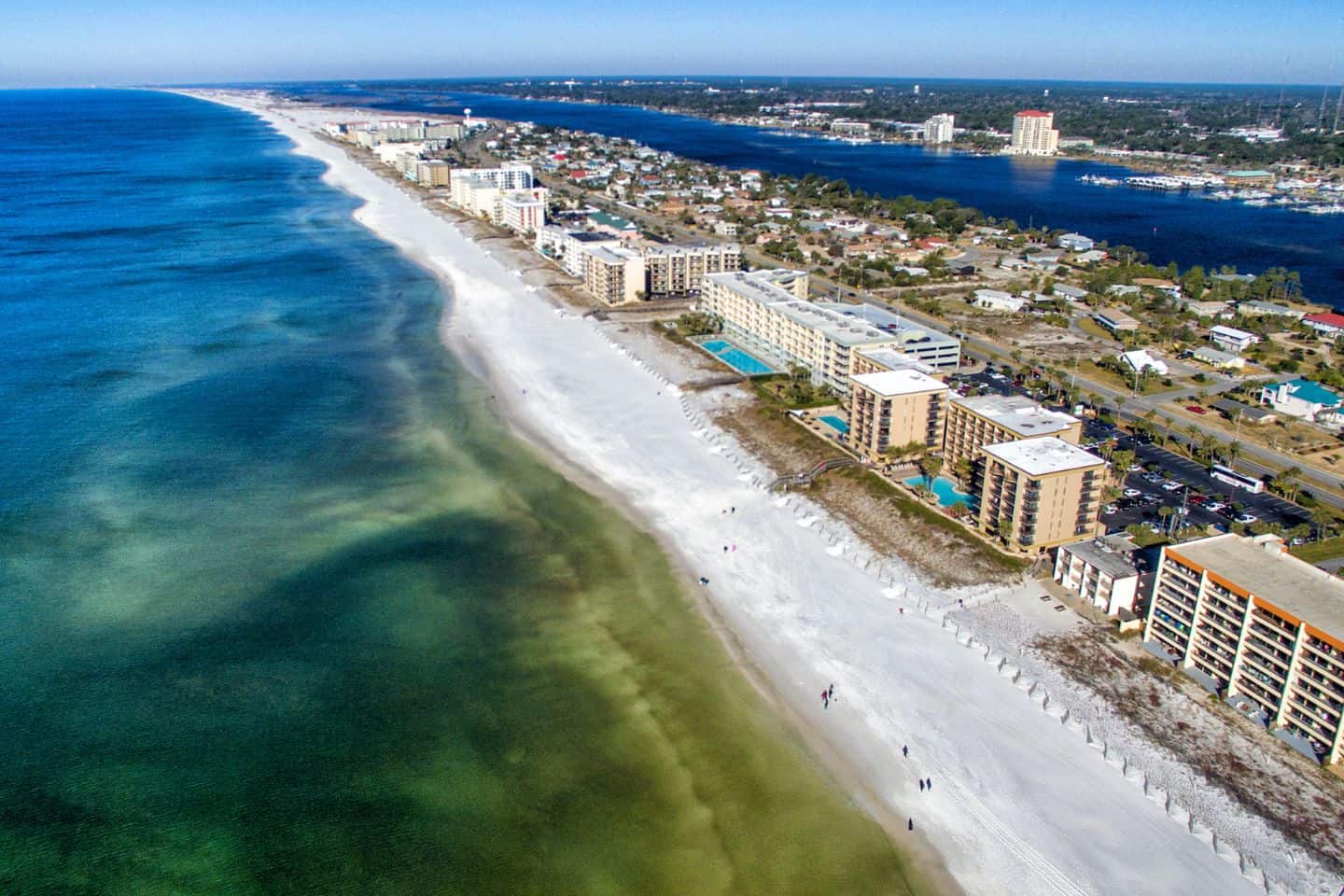 19. Fort Walton beach
What would a list of the best beach towns in the Florida panhandle be without the mention of Fort Walton beach?
Located adjacent to Okaloosa island and Pensacola beach it is in the perfect location.
When you get tired of the white powdery sand on south Walton beaches you can visit the Indian temple mound museum.
There are also plenty of Airbnb's here and it is one of the more affordable cities on the list.
Fort Walton beach shouldn't be missed.
Conclusion On The Best Towns In The Florida Panhandle
There is something for everyone in the Florida Panhandle, whether you want a busy weekend getaway or a quiet beach to relax on.
You won't be disappointed with a visit to these towns on your next trip to the sunshine state.
We choose the places on this list, because they range from busy places like Destin or Panama City Beach, with many sights and restaurants, to smaller towns like Port St. Joe, where nature is the main attraction.
A little something for everyone. So why not pack your bags and enjoy the beach life that the sunshine states has to offer?
Related Content
Best Places to Kayak with Manatees in Florida
Best Romantic Getaways in Florida