Clearest Water Beaches in Florida – 16 Beautiful Beaches You Must Visit
Are you planning a trip to the sunshine state, but want to ensure you visit the clearest beaches in Florida?
The sunshine state is full of amazing beaches that will make any trip memorable, but some beaches are better than others.
That is why we have put together a list of the clearest water beaches in Florida, that way you can narrow down the list on where you think you want to go and actually book your ticket.
Not only did we find the beaches with the clearest water, but we also found the cleanest beach in Florida.
So go ahead and pack your bags and get ready for a beach vacation to Florida that you will never forget.
These places with clear-water beaches will have you wondering why you didn't visit them earlier.
Top Clearwater Beaches in Florida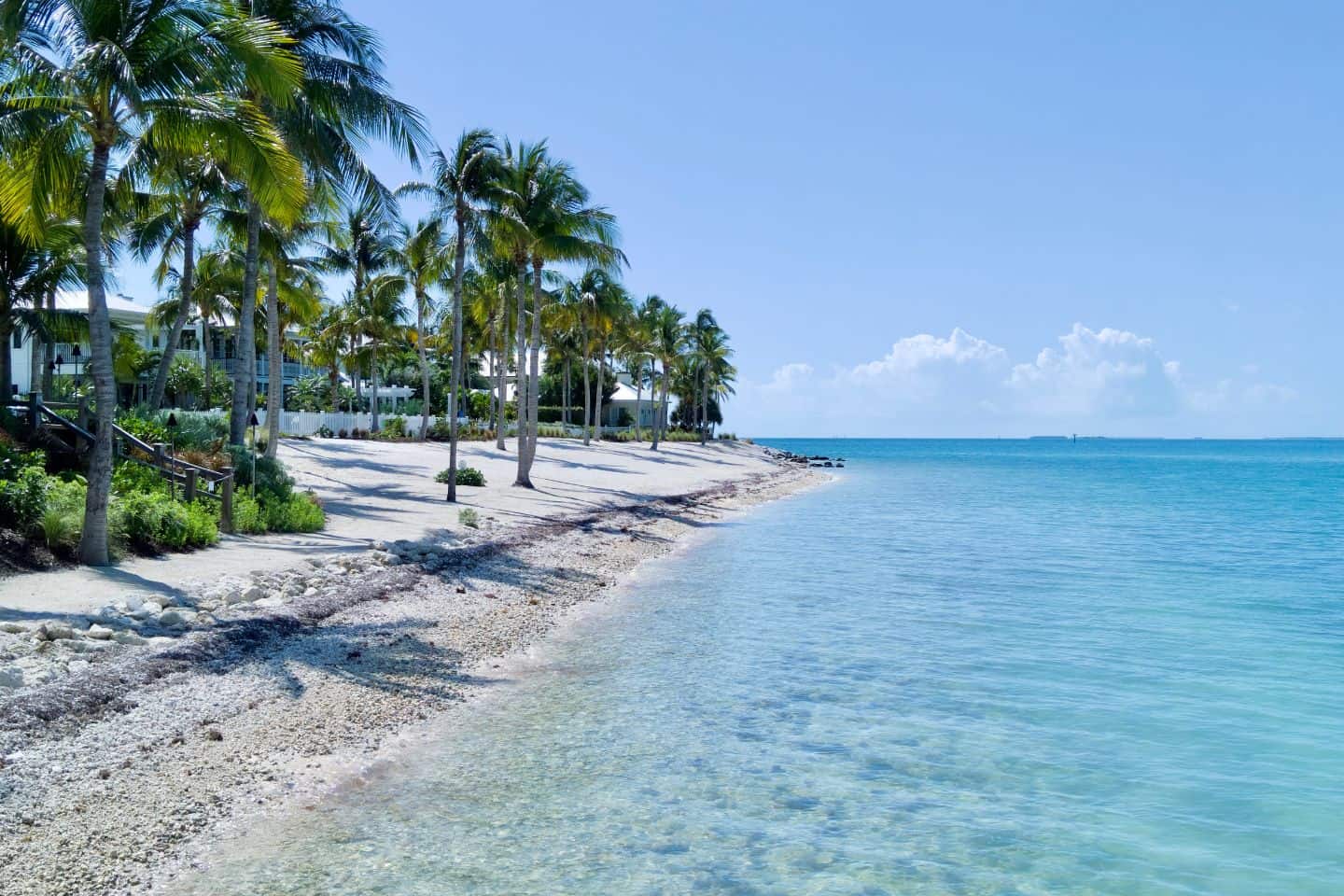 1. Key West
Key West is at the southernmost point of the US. So when looking for crystal clear water you truly can't go any further.
It has some of the prettiest water in Florida.
The Florida Keys are known as the gateway to the Caribbean where you will find pristine beaches with incredible weather year-round, and of course crystal clear water.
Key west is a Mecca for SCUBA diving you will be sure to find wrecks, tropical reefs and an abundance of marine life.
Find an unspoiled beach in Key West, pop up the umbrella, and soak up the sunshine.
There are plenty of fun activities for couples to do in Key West, so you and your bae will not get bored.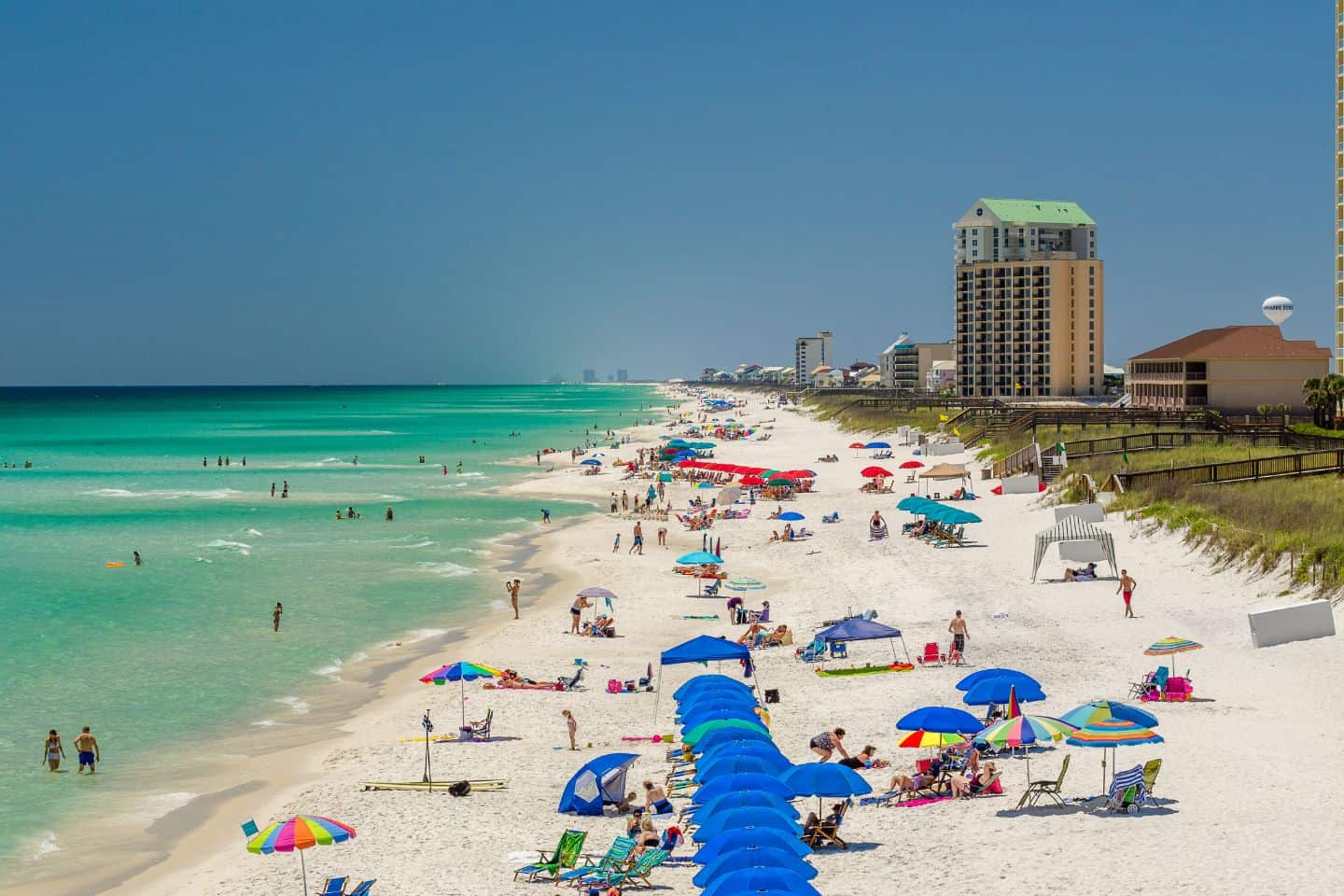 2. Navarre Beach
On the emerald coast with emerald green waters, Navarre Beach has it all.
This is a beautiful beach with white sand and some of the best water in Florida.
It is one of the best beaches in Florida, and unlike the rest of Florida's beaches, it doesn't get too many tourists.
So grab your beach chair, put on the sunscreen, and let the tide wash away your worries.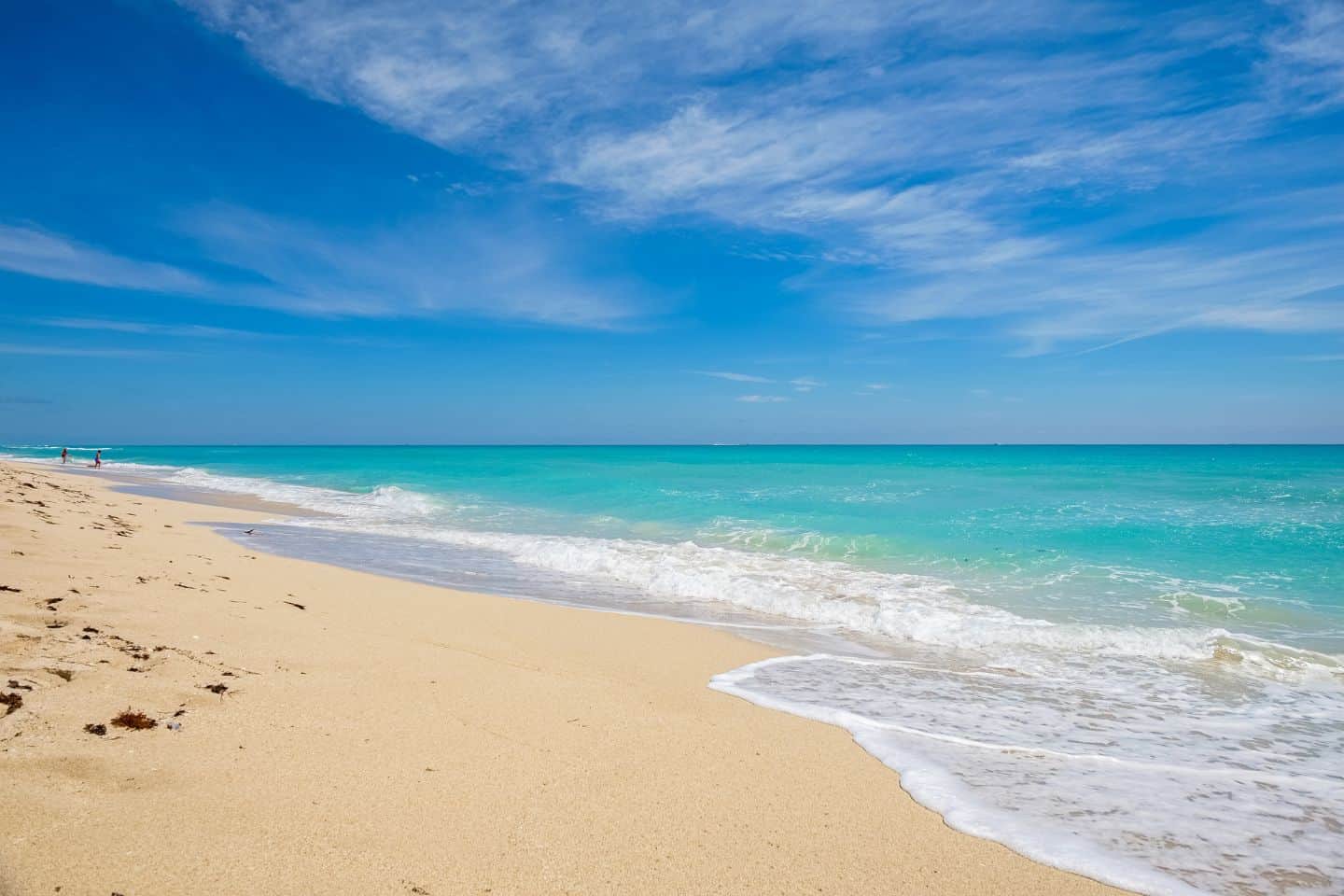 3. Miami Beach
Along Florida's East coast, you will find one of the hottest Spring Break destinations. South Beach in Miami Florida.
If you are asking yourself does Miami have clear water? We can certainly say it does.
This will rank as one of the best Florida beaches on your list. This beautiful beach is right of the strip and on the lower side of Miami Beach.
Packed with parties, beach volleyball, and beautiful people tanning everywhere.
You will be surprised to learn that it has some of the clearest water in Florida.
If you are looking to avoid the party you will find plenty of room to stretch out. There are plenty of good quiet beaches in Miami, just avoid south beach.
It is not all party all day here, although that is what they like to market.
Pull out the beach chairs and enjoy the warm weather and water.
4. Pensacola Beach
Along the barrier island in the Florida Panhandle, you will find Pensacola beach and some of the best beaches, white sand beaches, with the clearest water in Florida.
Enjoy the warm water and Florida sun in this west coast paradise. A great spot and destination to visit in if you are looking for secluded beaches in Florida.
With it's pristine white sand beaches and crystal clear water, you will never want to leave. Pensacola is one of the best towns in the Florida panhandle.
5. Fort De Soto State Park
Made up of 5 interconnected Islands surrounded by emerald green waters woven in and out of mangroves is Fort De Soto State Park.
Over 7 miles of beautiful beaches made up of gorgeous white sand, there are plenty of activities to enjoy.
Kayak, fish or snorkel around to see local marine life and enjoy the clearest water in Florida.
There are also volleyball courts here if you are looking to get some excerise while you are on vacation.
6. Destin
Located in the Florida panhandle you will find the soft sugar sand of Florida's emerald coast.
The gorgeous white sand beaches of Northern Florida will blow you away with their beauty and warm waters. Destin's stunning beach will blow your mind.
Here you will find the clearest water in destin, fl, it might even be the clearest water in the state.
Destin is a quaint beach town with plenty of space to stretch your legs and get your tan on. There are miles of beaches with clear water here, so you won't have to worry about the crowds.
7. Biscayne National Park
Not only is this tropical reef a great place to scuba dive or snorkel but also an amazing place to paddleboard, kayak or mess around with other water sports.
It is one of the top scuba diving areas in the United States with a portion of the world's third-longest-living coral reefs. Something that shouldn't be taken for granted.
With incredible visibility, the clear water will make you want to jump in and stay in. Biscayne national park has some of the most stunning beaches in Florida.
Just north of the Florida Keys, you will find this a great escape. It is located in the hustle and bustle of Miami beach, but with it's beauty, you will feel miles away from Miami.
Best Beaches in Florida with Clear Water – Gulf Coast
Continuing on now with the list of the clearest water in Florida we head over to some of the beaches on the gulf coast.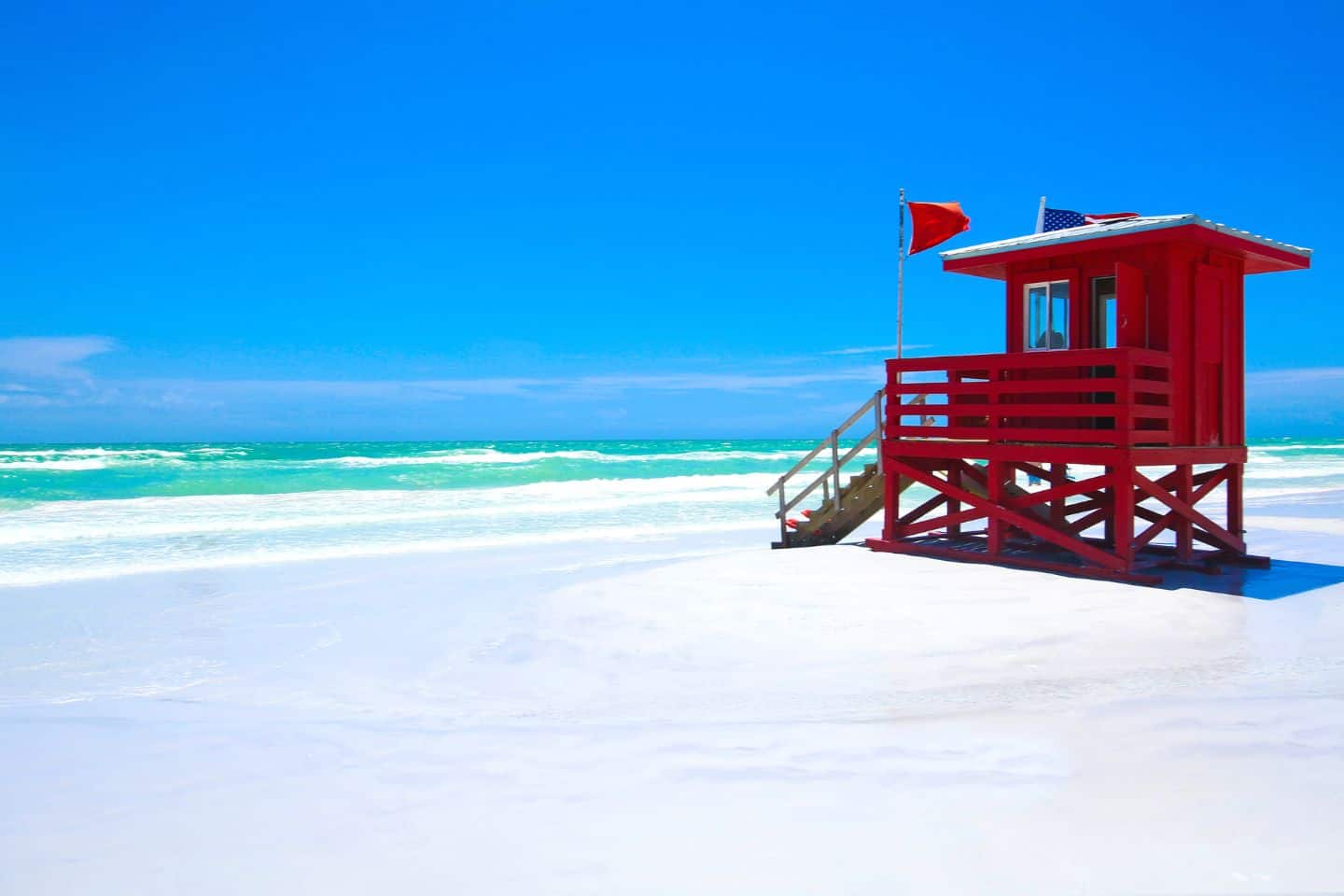 8. Siesta Key
Known best for its gorgeous white sand beaches on a small Island on the west coast is Siesta Key.
The name alone tells you it's time to relax. This beautiful beach is made up of finely ground quartz. Which creates a sparkling white sand beach making it one of the best beaches in Southwest Florida.
It is soft and playful and one of the best beaches on the Gulf Coast. Siesta Key beach has the sun, the emerald green water and is only missing you and your beach chair.
9. Rosemary Beach
In the Florida panhandle you will find some of the best beaches, most pristine beaches with the clearest water in Florida.
Rosemary beach is no exception to this rule. Being part of the emerald coast beaches in Florida is unique in itself but Rosemary beach has the small beach town to go with it.
This is a perfect getaway.
10. Caladesi Island
North of clearwater beach you will find a beautiful state park. With no direct car access to these unspoiled beaches.
With emerald green water and many waterways to explore this might become known as one of the best beaches in Florida or not. Maybe it's better not to let too many people know about this one to help keep the crowds out.
11. Honeymoon Island State Park
Crystal-clear water is found all along most of the Florida gulf coast, however, some spots are better than others.
Honeymoon island state park is a gem of its own. Scower the white sandy beaches for a beautiful shell collection or take a swim in Florida's gulf coast.
The warm turquoise clear water and quiet relaxing beach will keep you around for a while. The perfect spot to come for a honeymoon or even a babymoon in Florida.
12. Sanibel Island
Sanibel Island is another spot on the gulf coast that you can enjoy some of the clearest water in Florida. It is also one of the best spots in Florida beaches to go shelling. The direction the beach faces allows more sea shells than normal to wash up on the beach.
So if you want to collect some free suvoniors on your vacation to Florida while enjoying some beautiful clear water beaches than maybe Sanibel island is the right spot for you.
13. North Captiva Island
North Captiva Island is more in the middle of the gulf of Mexico than mainland Florida, but it hosts some amazing tranquil water that will make your vacation to Florida more enjoyable.

What makes this island so special, is that it is un accessible by car, if have to reach it by boat, ferry or airplane. This makes for an experience in itself, as most people see dolphins on the ferry as they head over.
Plus the lack of being able to drive there detours some tourists making for a more remote destination in Florida.
14. Dry Tortugas National Park
Located in Florida's gulf coast you will find a stretch of seven small islands. This is an incredible National park that is home to sandy beaches, crystal clear water, tropical reef, and a ton of natural beauty.
Inside the Dry Tortugas National Park, you find Fort Jefferson with water shuttles daily to and from this gem. This is a short and scenic ride from Key West with breathtaking views.
This is some of the clearest bluest water in Florida. If you have the time to make it all the way south to Dry Tortugas National Park, we highly recommend it.
15. Anna Maria Island
A retreat of natural beauty. Anna Maria Island on the West Coast has absolutely breathtaking sunsets over crystal-clear water.
Situated on the gulf coast the white sand beaches are some of the most beautiful beaches in the area. Soft white sandy beaches, a cooler of drinks and food with the mellow sound of waves moving the ocean floor… you might find it hard to leave Anna Maria Island.
So pack your beach bag, it's almost vacation time.
16. Panama City Beach
Known for having the beaches with the clearest water in Florida you can not miss this Emerald Coast classic. You don't get that name by just by having crystal clear water in Florida but you must also have beautiful pristine beaches too. Panama City Beach in Florida's gulf coast is a wonder to behold. The soft sugary, sandy beaches in the Florida panhandle are unraveled anywhere else in the country.
Honorable Mentions for Clearwater beaches in Florida
There are so many clear water beaches in Florida, but we wanted to keep our list small to not overwhelm you, but we had to give these beaches some honorable mentions.
St Augustine
On the Atlantic coast just south of Jacksonville sits a quaint beach town with a classic historic feel.
Break out your beach chair and relax on the soft sandy beaches of St Augustine. These popular beaches are hosts to many activities like jet skiing, surfing, fishing and many other water sports.
The sandy beaches and soft ocean floor make this a relaxing destination. It is also American's oldest city, so when you are not on the beach unwindy you can explore the oldtown streets and learn all about the history of America.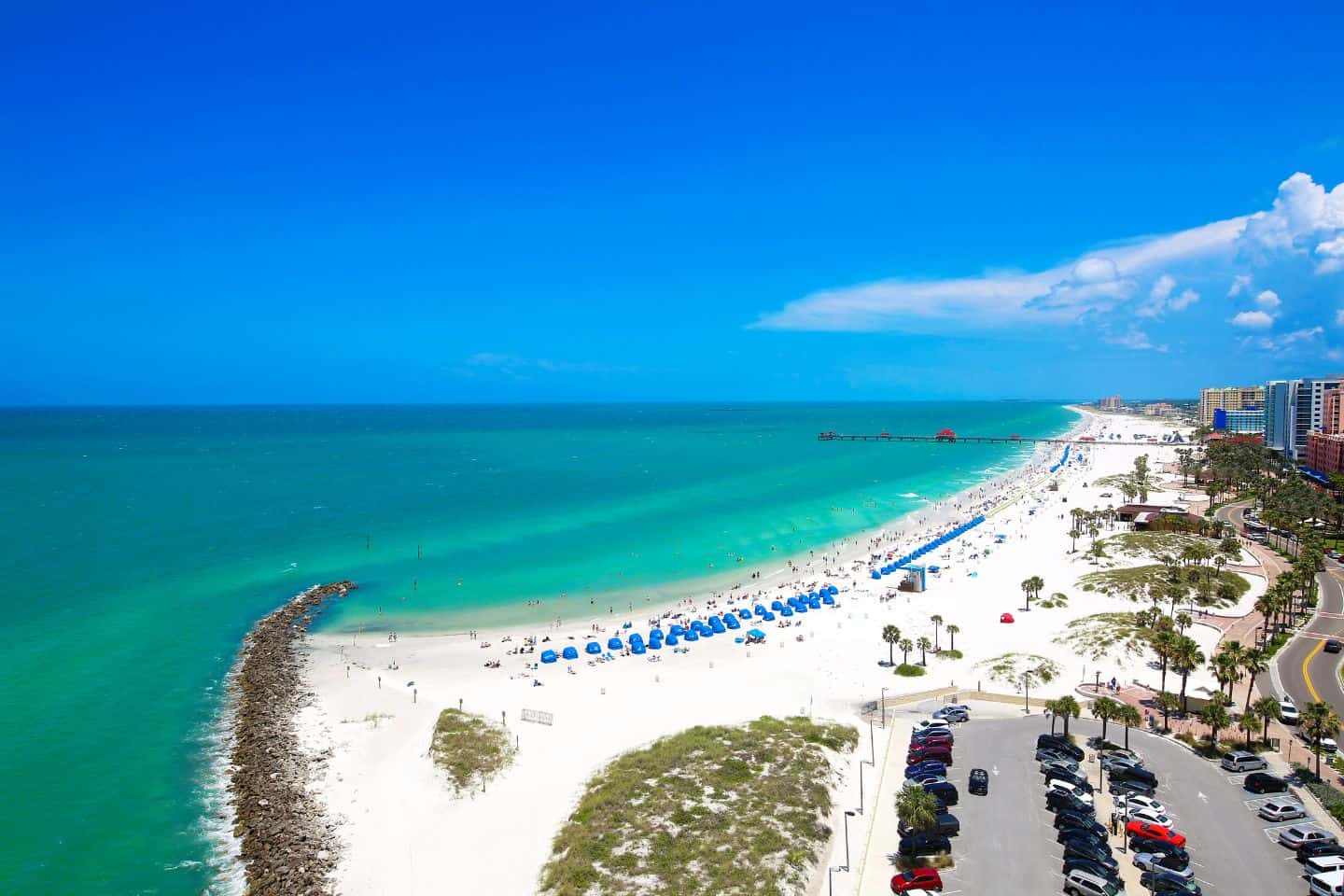 Clearwater Beach
Right outside of Tampa in the gulf of Mexico is Clearwater and Clearwater beach, the title in the name says it all.
It has some of the best florida beaches, with stunning white sand and blue blue water. The perfect spot for a family vacation.
It also hosts some amazing sunsets, so if you are not a morning person and perfer sunsets to sunrises the West coast of Florida is probably the better option for you.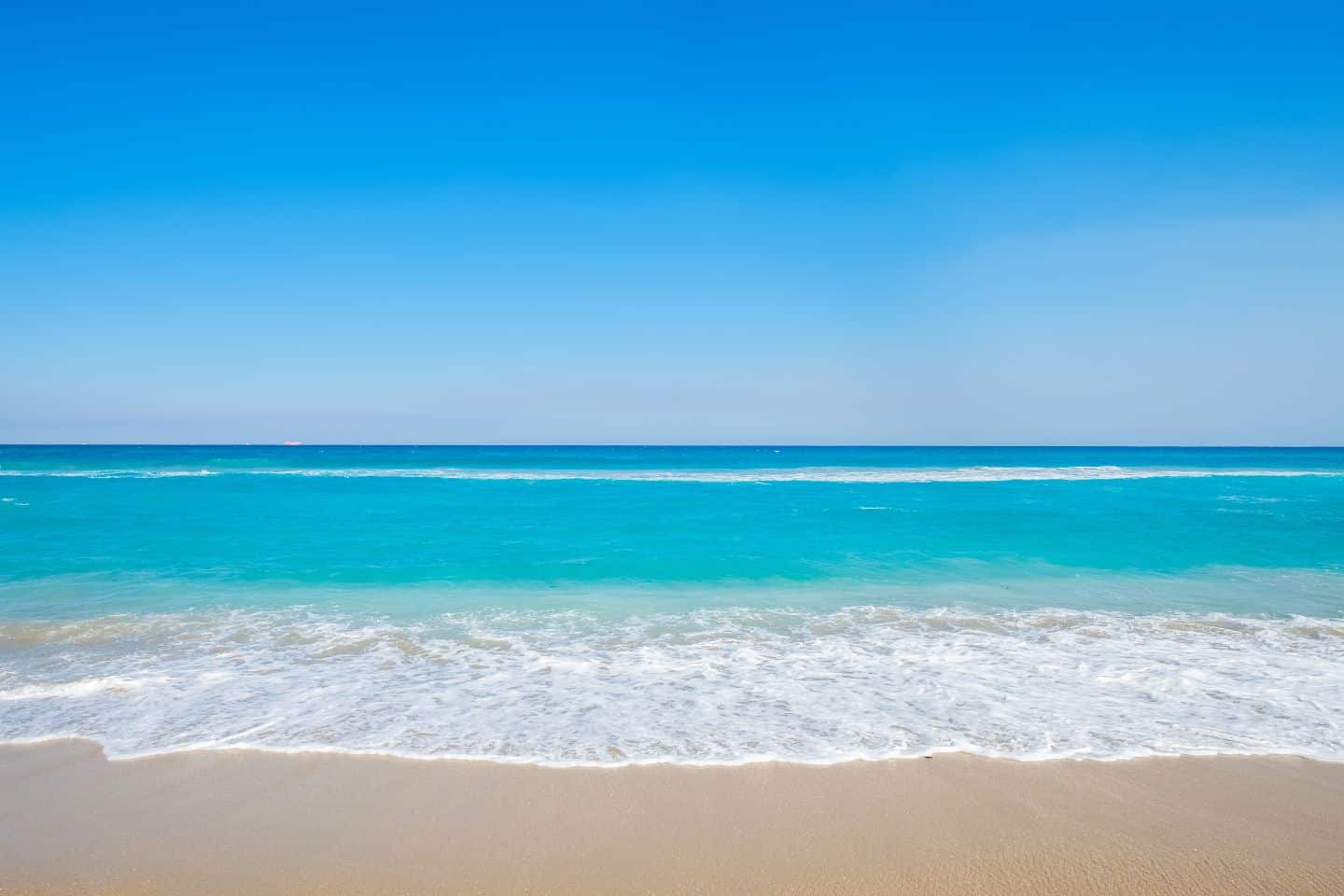 Palm Beach
Palm Beach is on the East Coast of Florida in between Miami and Daytona. It is home to some of the more luxurious homes and residents of Florida and has some pretty stunning beaches in Florida along the Atlantic ocean.
It is easy to access as well with their international airport. If you are looking to avoid the crowds of Miami or South Florida, Palm Beach is a good alternative.
Smathers Beach
This is another beach that is in Key West and has some of the bluest water in Florida along with a beautiful sandy beach.
It is the perfect escape and beach to check out if you are in the Florida Keys. It has some of the clearest water in Florida and is a beautiful quiet beach.
There is fun to be had with snorkeling, fishing, and paddle boarding. The options are endless here.
Closing Thoughts: Beaches With The Clearest Water In Florida
For clear beaches in Florida there are some that should not be missed.
Even though you haven't left the country, Florida can make you feel like you are on a tropical island somewhere far far away. It is full of some of the country's best beaches.
It is almost hard to narrow it down and pick the beach that is right for you.
But if you know what you are looking for party vs seculde or rustic vs luxury it can make the process a little easier.
But no matter which one of Florida's beaches you pick, you are ensured to have a good time.
Related Content
Best Places in Florida for a Babymoon
Kayak with Manatees in Florida