The winter months are not the best time to arrange your next beach vacation. Unless you're heading to Florida!
Yes, it is right. In December, you may escape the cold by basking in the sun on some of Florida's warmest beaches.
The one US state that you can pretty much guarantee will never have snow. So if you are suffering from the winter blues already and it is only December, you are not alone.
Why not plan your winter escape and enjoy white powdery sand beaches rather than snow-covered streets?
So let's dive into the warmest places in Florida, so you can book your ticket and escape.
Continue reading to know more about our top December beach destinations in Florida.
Why Visit Florida's Beaches in December?
Florida is renowned for its magnificent expanses of beaches on the mainland, its vibrant atmosphere, and, most notably, its dozens of dispersed islands in the ocean.
It is the southernmost state in the United States, so the weather is beautiful even in December.
December is also an excellent time to visit Florida, as prices will increase significantly by mid-January when hordes of tourists arrive.
Visiting in December is ideal for averting the cons associated with high season.
With approximately 1,200 miles of coastline, Florida the Sunshine State is a destination for East Coast that is great to visit year-round.
All types of vacationers are attracted by the variety of Florida's shores, which range from kid-friendly to party-oriented.
Florida's Temperature in December
December's average temperature ranges from 64°F to 76°F (18-24°C). December is an arid month with increased fog, stronger gusts, and mild temperatures. The chance of rainfall is low, with an average of 2 inches.
There is a substantial disparity in climate between southern and northern Florida. In December, the northern portion of Florida (from central Florida to the Panhandle) has average daily highs of 68°F (20°C) and lows of 48°F (9°C).
The southern region from central Florida to Key West has an average temperature of 75°F (24°C).
December highs in Destin, Tallahassee, and Pensacola reach 70 degrees Fahrenheit (21 degrees Celsius).
Packing Tip: When preparing, bring a variety of layers, as mornings and evenings can be a bit chilly, but days are sunny and warm.
Rainfall in Florida in December
December lies within the year's dry season, so most days are dry. Even when rain occurs, it typically only lasts between 15 minutes and an hour.
The average rainfall in December is approximately 2 inches, and it only rains 6-7 days per month. So if you are planning on visiting Florida in December, you are most likely going to have amazing weather.
However, the weather in unpredictable, but you will most likely be able to enjoy some of the warmest beaches the US has to offer in December.
Whether you are traveling to South Florida or the Northern part of the state, you will not be disappointed.
Wind in December in Florida
While rain is rare in Florida in December, strong gusts of wind are expected.
Winds typically move in the morning or after sunset in December. So be prepared that it might be a little windy on the beaches in Florida.
Humidity in December in Florida
Even during the winter months, Florida's humidity is typically high. Especially, if you are used to living in a drier climate.
Morning humidity is approximately 86% and decreases to 55% during the day and night.
Ocean Temperatures in Florida in December
According to seasonal norms, the sea temperature in Florida in December is:
Minimum: 27.1°C/ 80 F
Average: 27.6°C/ 82 F
Maximum: 28.5°C/ 83.3 F
Other Seasonal Averages for December Weather:
Outside temperature: 24.5°C to 27.2°C or 76 – 82 F
Clear and sunny is the most common weather.
15 Best Florida Beaches to Visit in December
If you're looking for the warmest part of Florida in December, look no further than these warm Florida beaches, where ocean temperature averages in the 80s.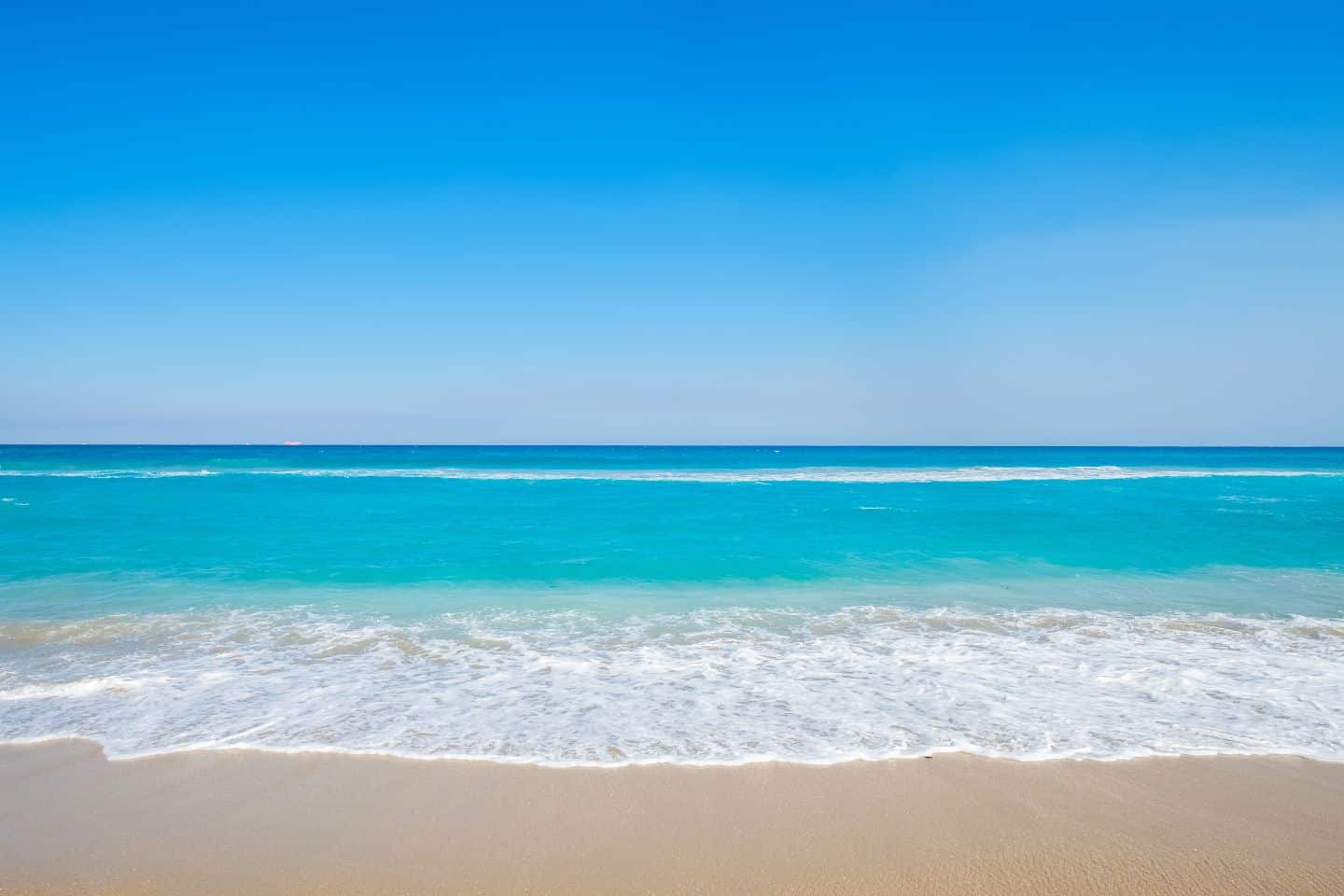 1. Key West
If you are looking for the warmest Florida beaches in December, the warmest one you are going to find is in Key West.
Being the most Southern point in the United States, you are going to be the closest to the equator that you possibly can be in the state of Florida.
Key West beaches are beautifully lined with palm trees, and it has some of the best coral reefs in Florida. So be sure to bring your snorkel gear.
There are plenty of fun things for couples to do in Key West to keep you busy, or not depending on what type of vacation you are looking for. So if you want the warmest place in Florida in December, it is going to be Key West.
👉 Stay Here: Ocean Edge Key West – Great Location with Ocean Views
2. Palm Beach
Palm Beach has something to offer every sort of wanderer, whether you're window browsing along Worth Avenue or honing your stroke on one of the area's world-class golf courses.
It also hosts some incredible beaches that you might want to rest on in the area's sparkling white dunes.
This luxury resort town, situated approximately 70 miles north of Miami, has affluent restaurants, magnificent Gilded Age palaces, and sophisticated art galleries.
While in Palm Beach you will want to visit Municipal Beach for sunbathing and swimming.
If shell collecting and snorkeling is more your thing check out Phipps Ocean Park for shell. This might be one of your list of premier winter beach vacation destinations on the Atlantic coast.
👉 Stay Here: Breakers Palm Beach – Relaxing Location right on the beach
3. Siesta Key
This barrier island off the coast of Sarasota in the Gulf of Mexico is a popular destination in Florida.
Siesta Beach is considered one of the most stunning beaches in the world.
It features 8 miles of white sandy beach and crystal clear waters as well as plenty of spots for dining, shopping, and evening entertainment.
Crescent Beach, another Siesta Key highlight, is ideal for vacationers searching for powdery white sandy beaches with breathtaking scenery.
Just be warned it can get more crowded during peak times like spring break, but traveling in December should still be quiet.
In contrast, Turtle Beach is ideal for solitude, lengthy walks, convenient parking, and shell collecting.
👉 Stay Here: Capri @ Siesta a great boutique hotel on the beach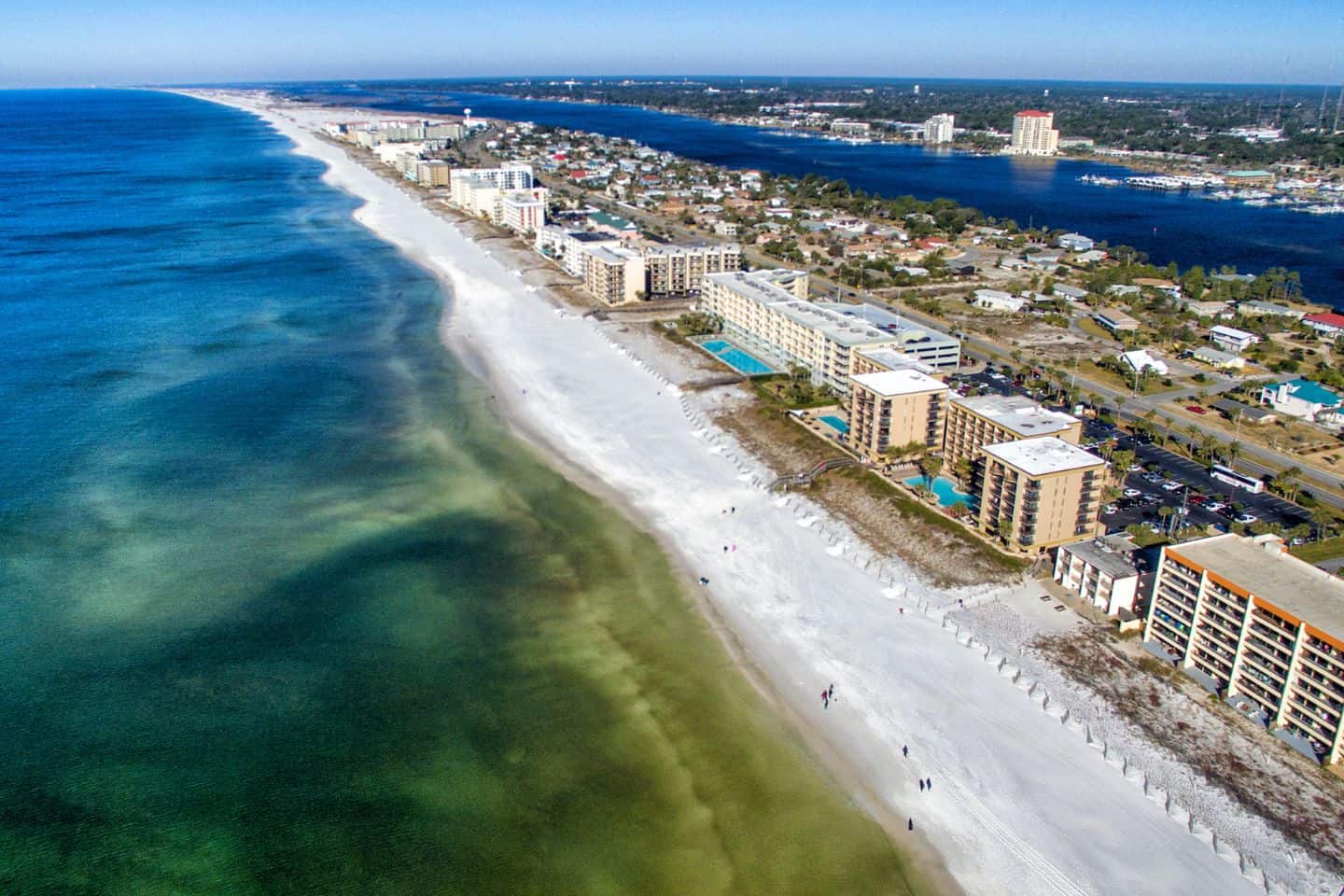 4. Fort Walton Beach
Fort Walton Beach on the Gulf Coast is a great place to visit for its relaxed beaches, world-class deep-sea fishing, epic golf courses, and family-friendly attractions ranging from aquariums to parks.
The beaches of Okaloosa Island, which feature a fishing pier, a promenade, and breathtaking vistas, are worth exploring.
John Beasley Park, also located on Okaloosa Island, offers pristine white sand beaches with convenient designated picnic areas to spend your days at.
You will appreciate the clearwater beach of Fort Walton.
👉 Stay Here: Island Resort – The best option in Fort Walton
5. St. Augustine
St. Augustine is a historical destination with more than 40 miles of shoreline along the Atlantic Ocean and several pristine shorelines.
Take a break from shopping on St. George Street and touring Castillo de San Marcos National Monument to go kayaking or bird watching in the wonderful Anastasia State Park. Just a few of the things couples can do in St. Augustine.
If traveling with young children, proceed to St. Augustine Beach to enjoy the splash pad and tranquil water.
Or, travel four miles northeast of downtown St. Augustine to the Vilano Beach pier to surf or fish. St.Augustine is the perfect place to celebrate your Merry Christmas party with the family and escape the cold.
👉 Stay Here: Pomar House – Boutique hotel in the heart of St. Augustine
6. Clearwater Beach
Clearwater Beach's calm water and pristine sand attract many people searching for relaxation.
When you get tired of swimming or reading your favorite book on the beach. You can play volleyball, rollerblade, or ride your bike on the beach promenade.
Clearwater Beach also features the Clearwater Marine Aquarium, which concentrates on rescuing and rehabilitating marine life.
Then, visitors can proceed to Pier 60 to witness a magnificent sunset and enjoy evening crafts and entertainment. Because the 1,080-foot pier is illuminated with multiple lights, fishers frequently fish here at night.
This is the perfect beach town in Florida to visit in December and like the name says you will love their clearwater beach.
👉 Stay Here: Legacy Hotel – Top rated hotel in Clearwater Beach
7. Santa Rosa Beach
Santa Rosa Beach, which stretches over 26 miles along the northwest coast of Florida, is the place to go for sugar-white sand, clear water, and tranquil beach vibes on the emerald coast.
In addition, the food trucks in the neighboring community of Seaside offer an entertaining and convenient dining option.
Recent visitors recommend this beach community if you're looking for prime beaches with a more tranquil atmosphere than Panama City Beach or Destin.
Grayton Beach, Blue Mountain Beach, and Santa Rosa Beach are popular destinations where visitors can swim, sunbathe, explore dunes, bodysurf, and more.
👉 Stay Here: Watercolor Inn – Epic Ocean Views
8. South Beach- Miami
South Beach is an all-around win for warm weather in December, having some of the warmest beaches in Florida year-round.
Miami Beach is full of beautiful beaches and beachtown nightlife. Miami Beach in South Florida has food options from trucks and bodegas to Micheline star-rated restaurants.
The beautiful sandy beaches are an amazing way to spend your days and wash away that winter weather.
Play some beach volleyball, splash around in the water, pull out the chair, and let time go. For all you nature lovers check out West Island Nature park or Simpson park.
South Beach is the perfect spot to come and warm up while being social.
👉 Stay Here: Betsy – The best option in South Beach
9. Islamorada
Drive a little further south of South Beach and you will find Islamorada Key.
Located after Key Largo, but well before Key West, for those planning on driving from the Florida mainland to the Florida Keys.
This tranquil sanctuary, comprising six islands, is best known for its exceptional deep-sea fishing charters, and saltwater fly-fishing.
Plus, calming beaches for any beach lovers.
Adventurers can rent a canoe or kayak to take offshore to the Islamorada sandbar where you can enjoy swimming and snorkeling.
👉 Stay Here: Cheeca Lodge – You will absolutely love this pool 🏊‍♀️
10. Marco Island
Located approximately 20 miles south of Naples, Florida, and accessible via two bridges, Marco Island attracts visitors with its unique blend of luxurious resorts and pristine ecosystems.
Numerous local restaurants offer delectable seafood dishes for seafood fans, and boating is a popular activity here.
Indeed, Marco Island's pristine beaches are among the finest on the Gulf Coast. Tigertail Beach Park attracts visitors who wish to observe wildlife, hunt for fossils, or rent kayaks.
In contrast, South Marco Beach, populated by resorts and condominiums, provides ample space for sunbathing and swimming.
👉 Stay Here: Holiday Inn Vacations Sunset – Not like any other Holiday Inn you have seen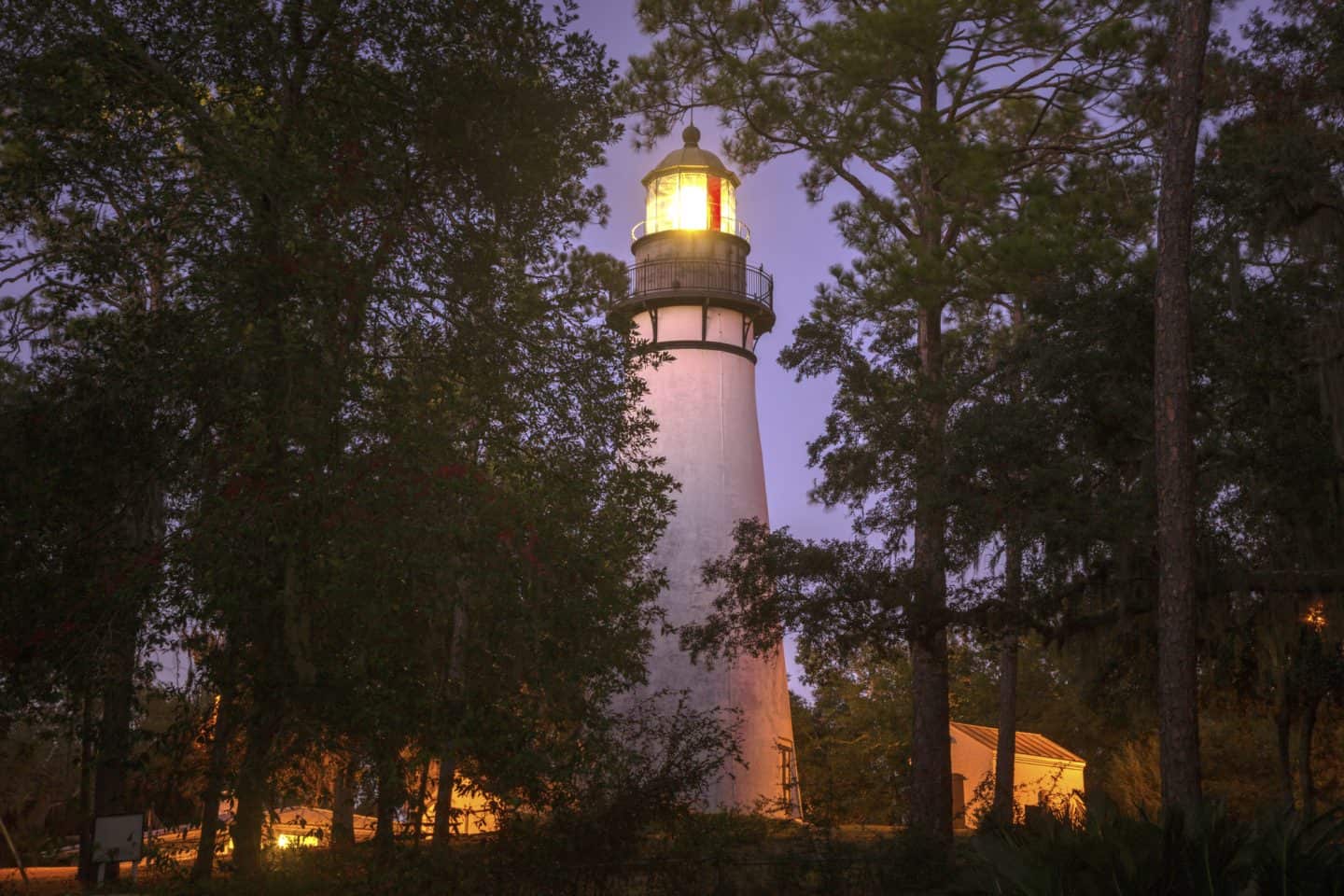 11. Amelia Island
Consider Amelia Island if you're looking for a tranquil seashore destination with old-world character.
Amelia Island, located approximately 30 miles northeast of Jacksonville, has 13 miles of beaches, including Amelia Island State Park (where you can fish, bike, and observe fauna).
And Main Beach Park (with a playground, an outdoor skate park, picnic tables, volleyball courts, and more).
As an enjoyable way to investigate the area, schedule an equestrian riding tour. Play golf on one of the island's championship courses or enjoy a walk around the island.
👉 Stay Here: Omni Resorts – Beach Front Hotel with Amazing Pool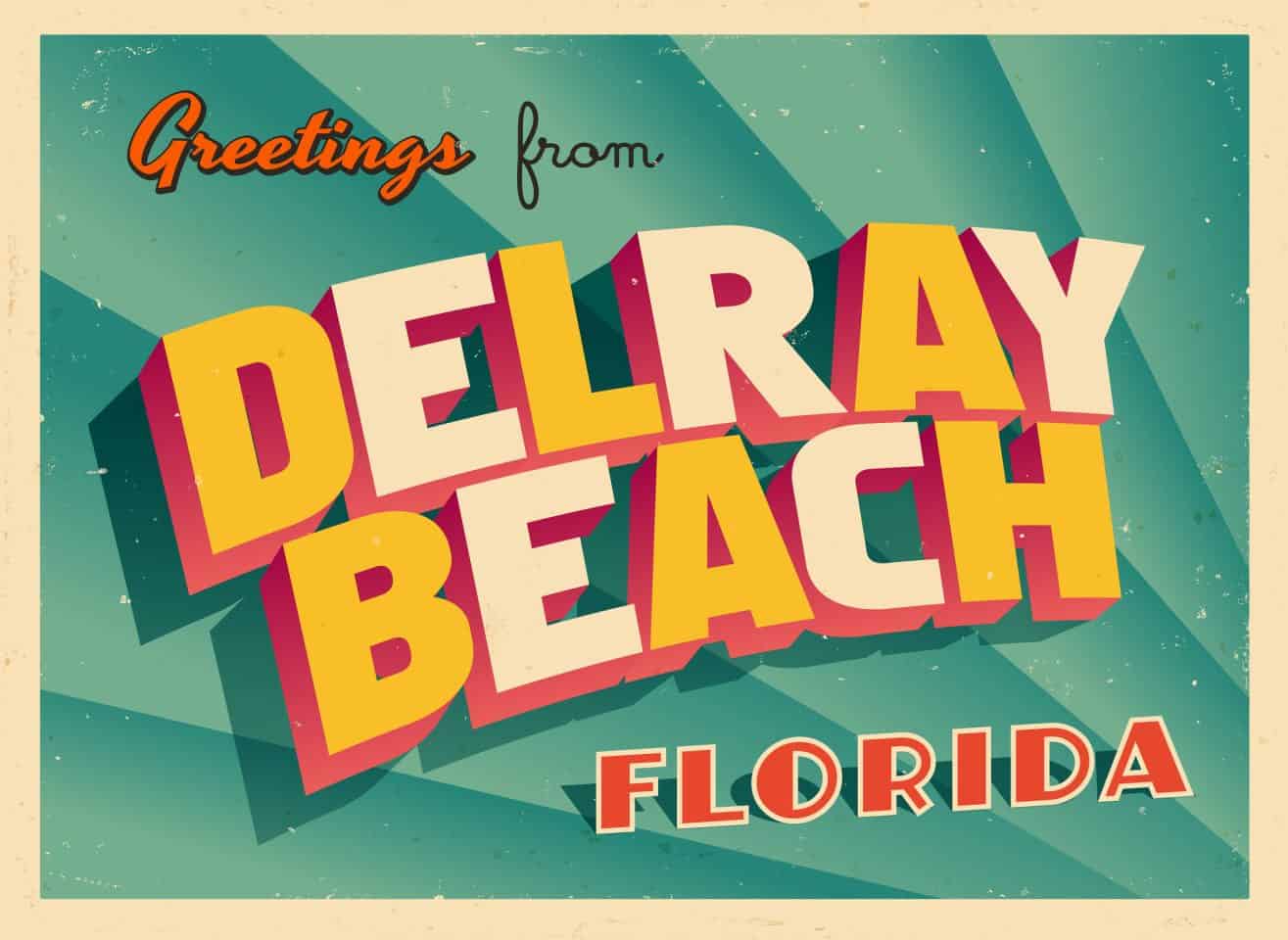 12. Delray Beach
Delray Beach, also known as Florida's "Village by the Sea," appeals to tourists seeking a small-town vibe and a city's entertainment options.
The Wakodahatchee Wetlands, the Morikami Museum, and the Japanese Gardens are not to be overlooked, but nobody would fault you if you decided to head directly to the shore.
The proximity of Delray Beach to the local shops and restaurants makes it the perfect beach escape for any traveler, not wanting to rent a car.
In contrast, Atlantic Dunes Park provides a more tranquil seashore experience in a serene natural environment.
When you've had enough of the shore, saunter along the palm-tree-lined Atlantic Avenue for luxury retail and lively nightlife.
👉 Stay Here: Crane's Boutique Hotel – A lush tropical escape in a concrete jungle.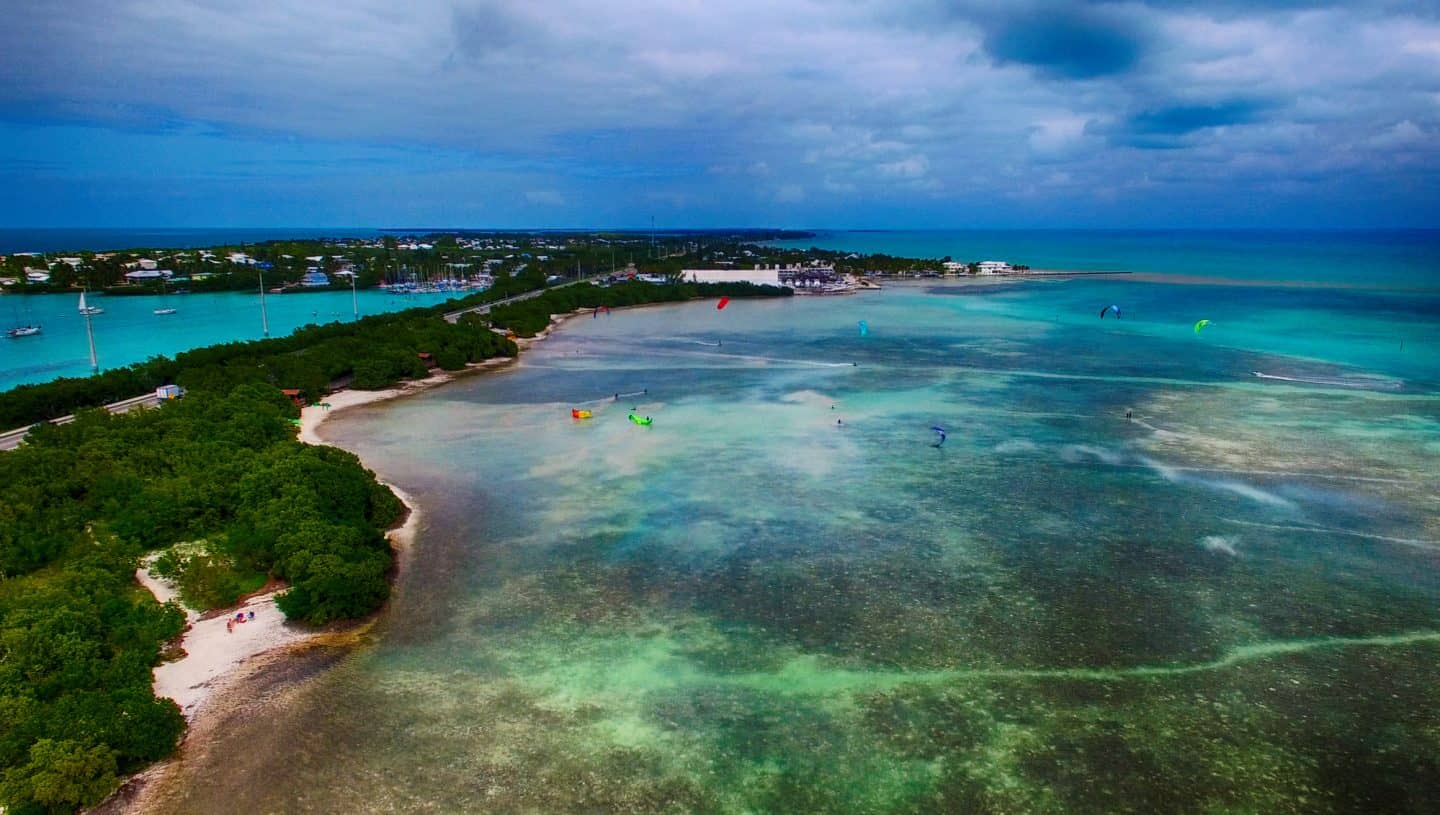 13. Key Largo
Key Largo, located in the upper Florida Keys, is renowned as one of the world's premier diving destinations, boasting breathtaking reefs, shipwrecks, and underwater monuments.
However, scuba diving equipment is optional to experience this island. Most tourists come here because it is one of the warmest Florida beaches in December.
So if you are looking to escape the winter blues, this is your place.
While in Key Largo you can visit John Pennekamp Coral Reef State Park or relax on the dunes of Cannon Beach, which was named for its 17th-century cannons.
The palm-lined Far Beach is also something worth checking out, known for its shallow waters and tranquil atmosphere.
Consider staying at a top-rated resort with a private shoreline for more space.
👉 Stay Here: Baker's Cay Resort – You will love this boho-style resort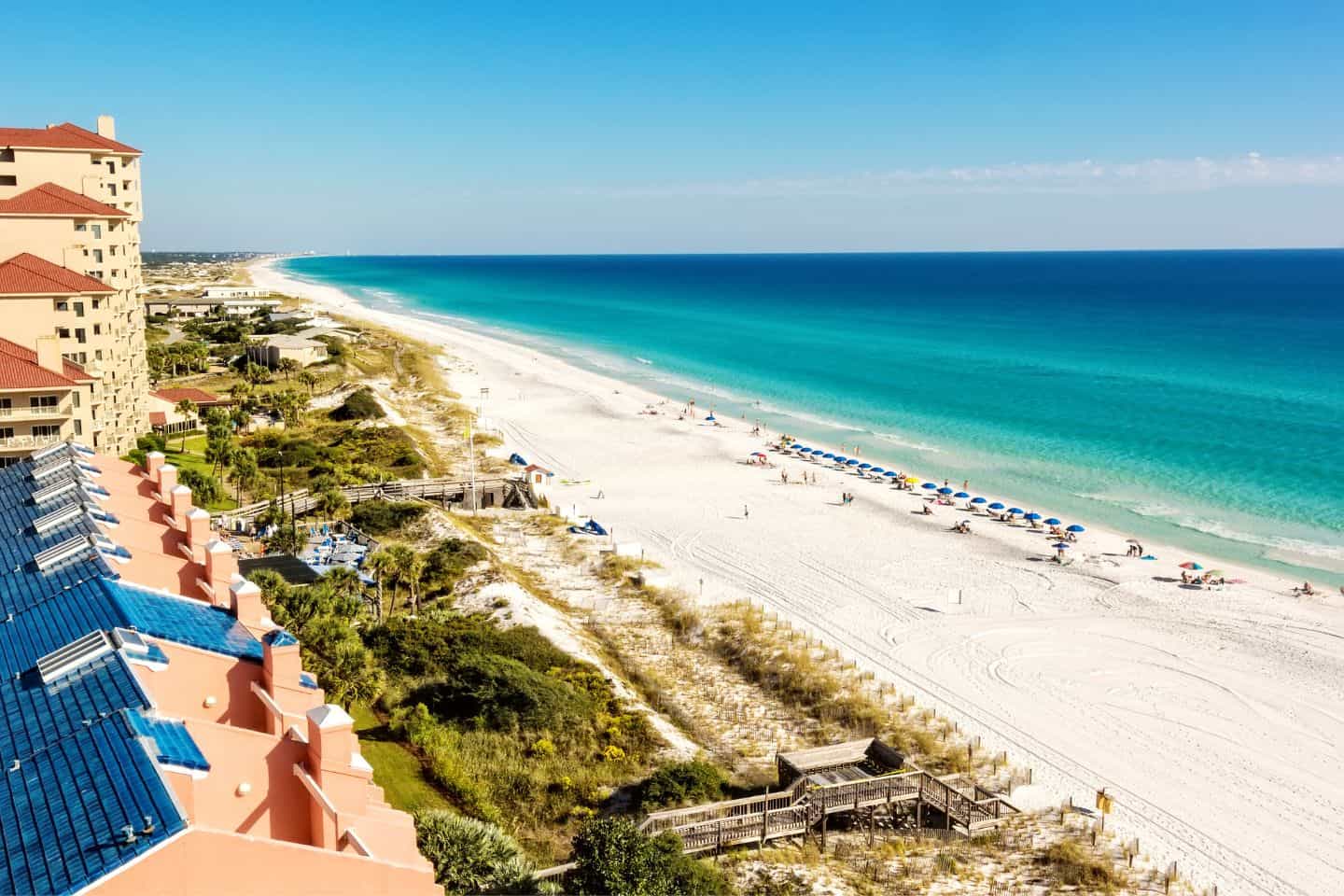 14. Destin
Families are drawn to Destin because of its gorgeous white sand beaches, beautiful crystal clear waters, and consistent sunlight.
This Florida mainstay has everything you need for a memorable beach vacation, including various thrilling activities to keep you occupied (Destin is home to multiple adventure parks).
December is a great time to visit because room rates tend to drop off. Summer is the highest season for temperatures, visitor volume, and room rates.
Famous expanses of pristine white sands, such as June White Decker Park and Crystal Beach, are located near the town's resorts and vacation accommodations.
For a more relaxed atmosphere, sunbathe on the Appalachian quartz sands of Henderson Beach State Park. During their visit, beachgoers may spot dolphins, sea turtles, and other animals.
👉 Stay Here: Hotel Effie – You will love their roof top pool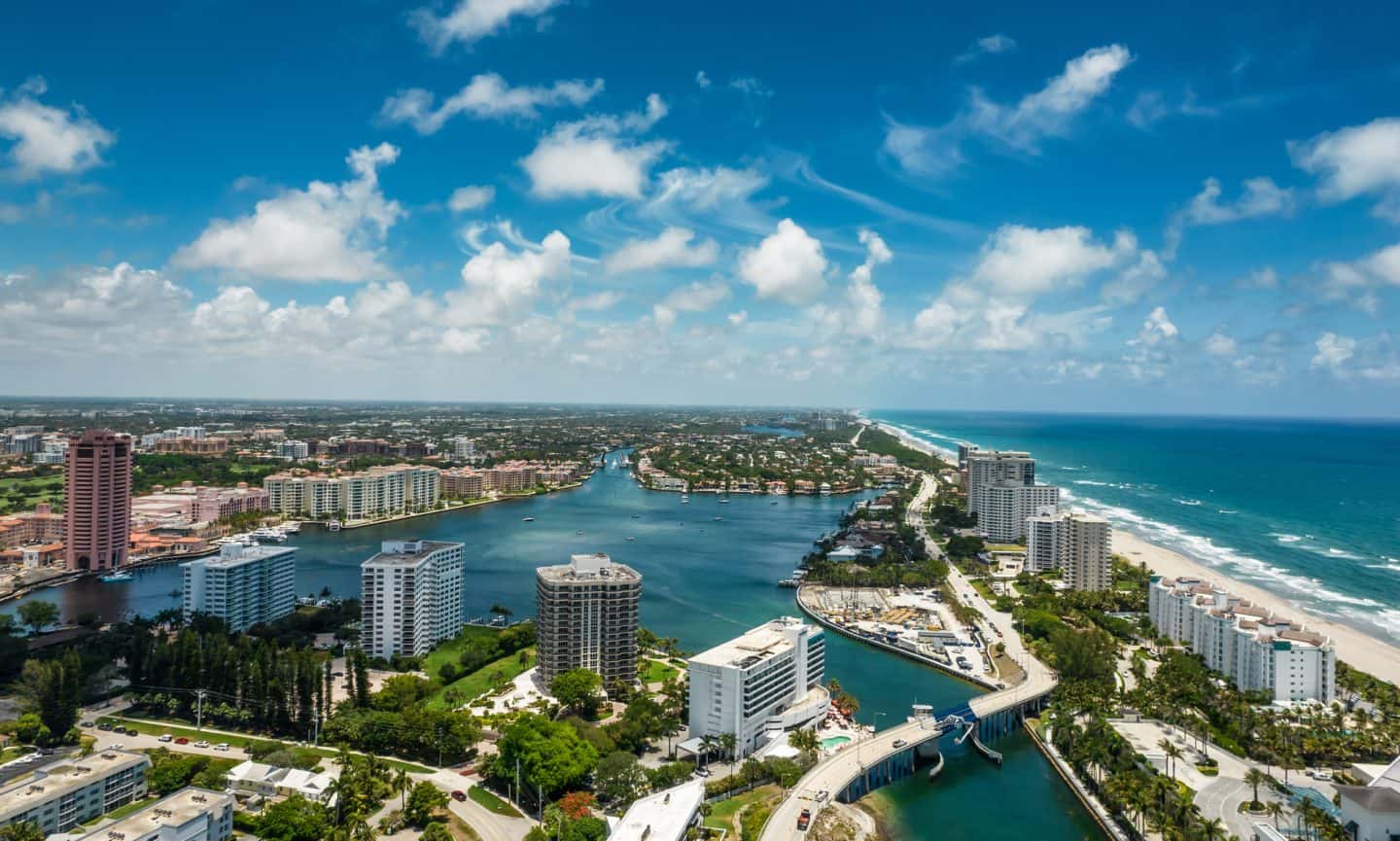 15. Boca Raton
Boca Raton, situated between West Palm Beach and Miami, has two miles of lifeguard-patrolled beaches.
South Inlet Park (a fishing hotspot that is rarely congested) and the nearly 40-acre Red Reef Park offer outstanding swimming, snorkeling, and surf fishing conditions and are must-see beaches.
In addition, Red Reef Park contains the Gumbo Limbo Nature Center, which offers sea turtle treks and hatchling release programs.
👉 Stay Here: Beach Club – Amazing ocean front Pool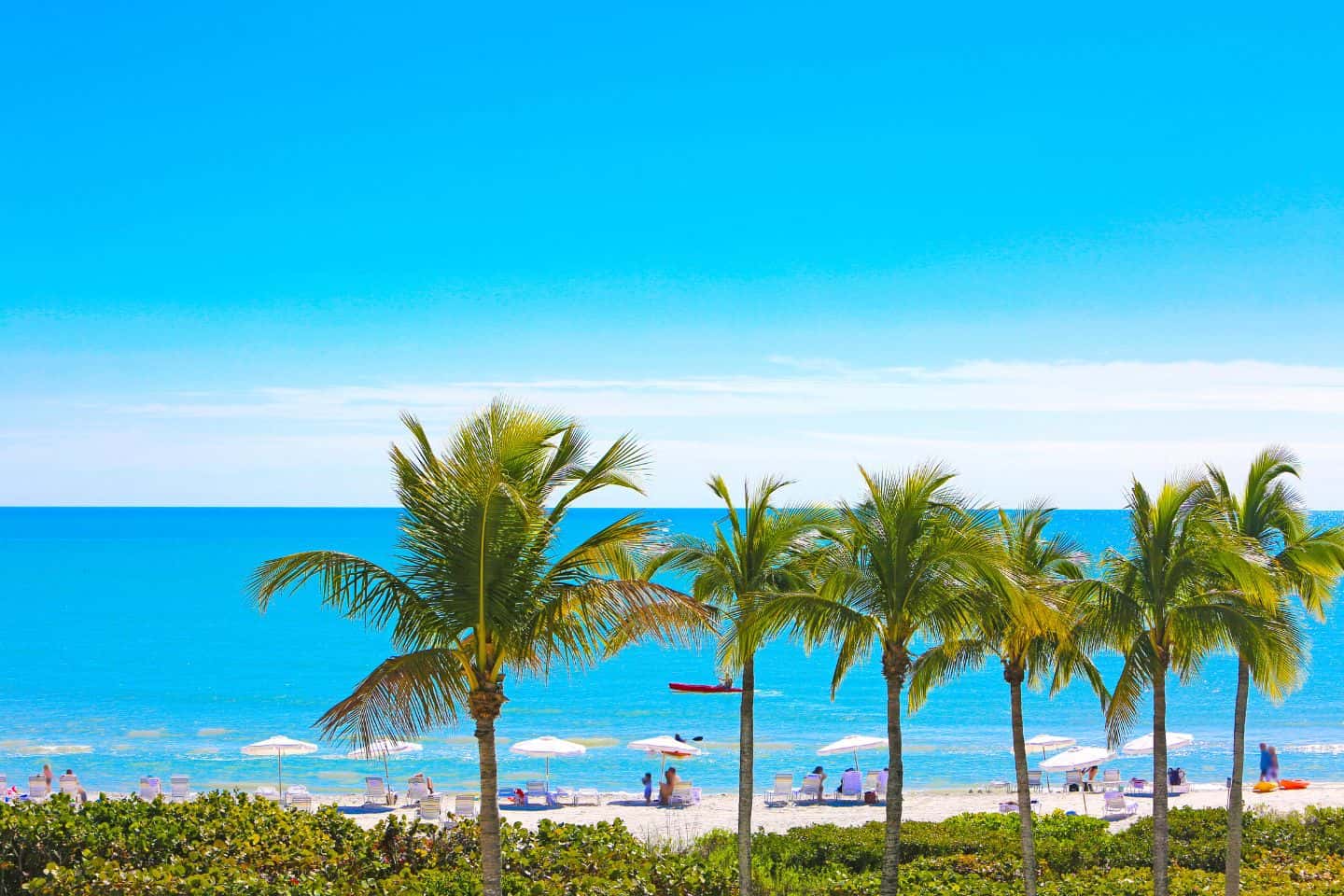 Honorable Mentions
If none of the spots on this list tickled your fancy, you might want to check out one of the following spots in Florida in December.
Caladesi Island State Park
Sanibel Island
Cocoa Beach
Fort Myrers
Anna Maria Island
Can you swim in Florida in December?
Yes, the water in Florida in December is plenty warm to swim in. If you plan on spending a lot of time in the ocean you will want to head to the more Southern parts of Florida as they will have warmer water temperatures.
The Takeaway
If you're searching for the warmest beaches in the United States in December, you should visit Florida.
With its mild year-round climate and hundreds of miles of stunning coastlines with sandy beaches, Florida is ideal for outdoor activities in December.
You could spend the entire day reveling in the sun on the beach. Wash your winter blues away with warm weather and some of the best beaches in the country.
Related Content
Clearest water beaches in Florida
Best Spots to Kayak with Manatees in Florida