Lets talk about finding sea glass on Florida Beaches.
You don't want to miss the chance to find treasures that are in plain sight do you?
This is a memorable hobby and a great decoration at home to talk about. Plus, it is free souvenirs while you are on vacation.
We are sea glass fanatics and collect it from everywhere we travel. We (Megan mainly) loves searching for it, and we find it so peaceful to hunt for while walking the beach.
There is a bowl that sits right next to the TV that gets small additions with every trip we take to the beach.
So if you are new to sea glass hunting, just know that the first few pieces might be hard to find but over time you will train your eye to spot these treasures.
Take your time on every walk and enjoy the hunt.
Best Beaches To Find Sea Glass In Florida
1. Siesta Key
Siesta Key, located on the Gulf Coast of Florida, is a popular spot for sea glass enthusiasts.
The beach's white sand, coupled with the Gulf's serene blue waves, creates an idyllic backdrop for sea glass collectors.
The gentle Gulf currents often deposit weathered pieces of sea glass along the shore, especially after high tide.
With its broad coastline, Siesta Key offers ample space for a peaceful, uninterrupted hunt for these colorful and frosted gems.
Stay for the show as this one of the best places to see a sunsets in Florida.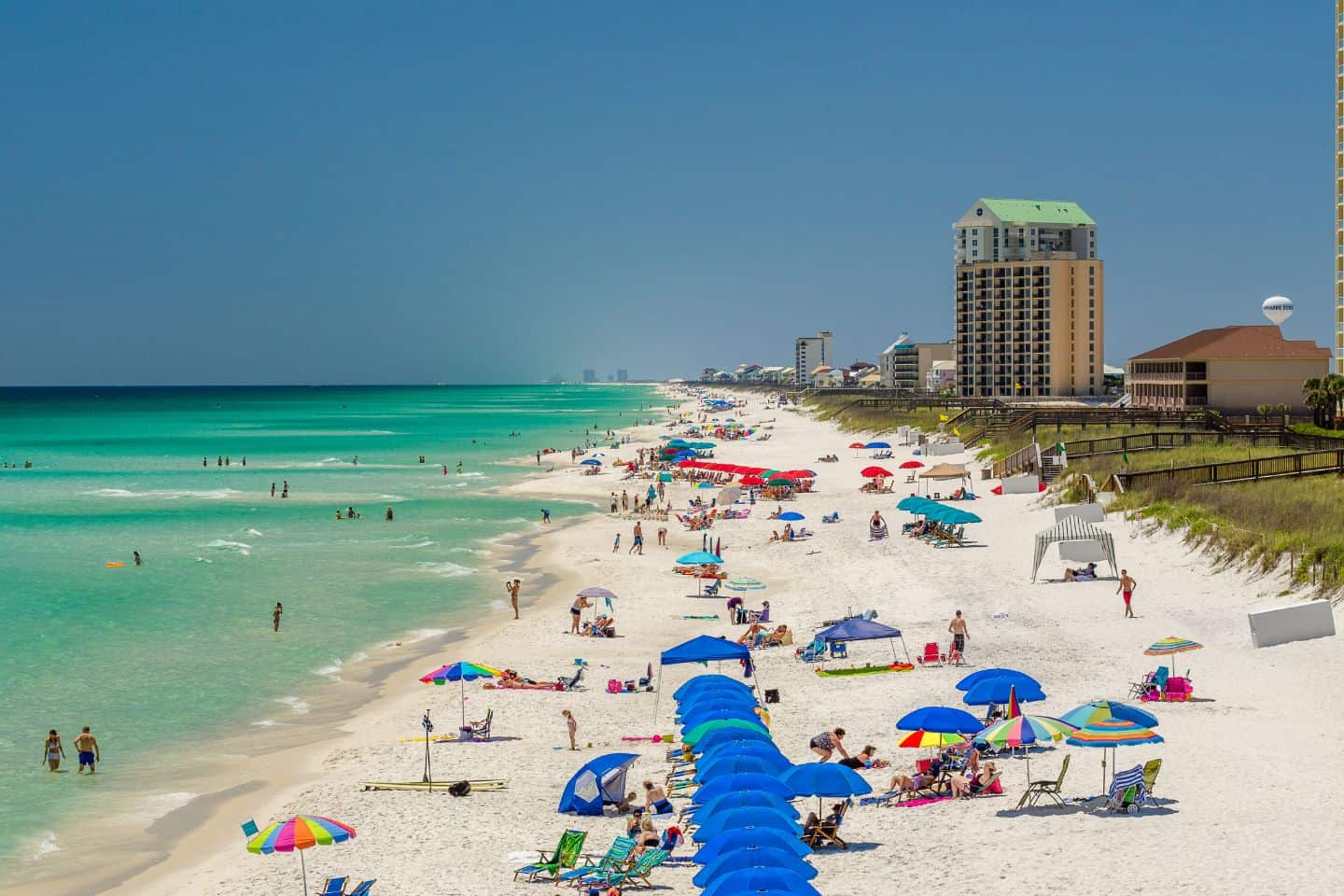 2. Navarre Beach
Situated on Santa Rosa Island, Navarre Beach, is another heaven for sea glass hunters in Florida.
Known for its pristine beaches, emerald green waters and fewer crowds.
Navarre Beach offers a tranquil sea glass collecting experience.
The sugary white sands of Navarre Beach occasionally reveal shards of sea glass, particularly after storms or strong tides.
Each piece has a unique charm, shaped and smoothed by the roll of the ocean.
Whether you are a seasoned collector or a curious beginner, Navarre Beach invites you with its serene beauty and hidden treasures.
3. Venice Beach
Venice Beach, often dubbed 'The Shark's Tooth Capital of the World', is not only known for its prehistoric shark teeth but also for an abundant supply of Florida sea glass.
The beach is located on Florida's Gulf Coast and provides a serene setting sea glass hunters.
Ocean currents frequently wash ashore a variety of sea glass pieces.
The optimal time for collection is usually after a storm or during low tide.
So keep your eyes open as this is one of the best places for shark teeth and sea glass.
Therefore, with its natural beauty and plentiful yield, Venice Beach is a must-visit for any sea glass enthusiast.
4. Coral Cove Park, Jupiter Island
Nestled on the scenic stretch of Jupiter Island is Coral Cove Park.
A lesser-known but delightful spot for sea glass collectors.
This hidden gem, characterized by its rocky shorelines and clear turquoise waters, boasts a considerable amount of sea glass washed ashore.
The variety of sea glass found here is notable, ranging from common green and brown pieces to the rarer blue and red shards.
Its unspoiled beauty coupled with the promise of sea glass treasures make Coral Cove Park an irresistible destination.
5. Fort Myers Beach
Fort Myers Beach is another beachgoer's delight.
Known for its expansive sandy stretch and shallow waters, it makes a perfect spot for sea glass hunting.
Brown sea glass is the most common here, but if you happen to find some blue you are in for a treat.
Crashing waves eventually push sea glass ashore.
The best time for a productive hunt is during low tide or after a storm, when the sea reveals its hidden treasures.
Walk the beach and keep an eye when collecting sea glass.
With a bit of patience and a keen eye, one can uncover a variety of sea glass pieces at Fort Myers Beach, adding a unique touch to any collection.
6. Jacksonville Beach
Jacksonville Beach, located on Florida's northeast coast, offers a promising hunting ground for sea glass collectors.
The beach features long sandy shorelines, interspersed with rock jetties.
This is where wave action tends to deposit sea glass and other treasures.
The sea glass found here is typically well-tumbled and frosted, with common colors like brown, green, and white.
Occasionally, lucky collectors may stumble upon rare hues such as cobalt blue or red.
As is generally the case, search during low tide or after a storm for the best results.
7. Bowman's Beach
Bowman's Beach, located on Sanibel Island, is regarded as a hidden gem for sea glass enthusiast.
Its secluded setting and natural beauty make it an ideal spot for to collect sea glass.
The beach is renowned for its diverse array of sea glass, ranging from the common brown and green hues to the rarer blue and red pieces.
The treasure hunt here becomes more exciting after a storm or during low tide, when the waves unveil their secret stash.
So, whether you're a collector or a beginner, Bowman's Beach promises a rewarding authentic sea glass hunting adventure.
8. Daytona Beach
Daytona Beach is another treasure trove for sea glass collectors.
Situated on the Atlantic coast of Florida, it boasts a long, sandy shoreline that continues to yield splendid pieces of sea glass.
You can find a spectrum of colors, including the occasional blue or green, and if you're truly lucky, a piece of red.
The best time to scour for sea glass is during low tide or after a strong storm when the sea has churned up the hidden gems.
Do remember to stroll along the waterline and scan the beach carefully.
With its stunning sunrises and the thrill of sea glass hunting, Daytona Beach is a must-visit for any collector.
9. Clearwater Beach
Renowned for some of the clearest water beach's in Florida, Clearwater Beach, is also a hub for sea glass enthusiast.
This Gulf Coast beach offers miles of sandy coastline, which is abundant with intriguing sea glass.
While the common colors like green and brown are frequently found, collectors might also stumble upon rarer colors like blue or even red, especially after a high tide or a powerful storm.
The beautiful surroundings coupled with the exciting chase for sea glass make Clearwater Beach an irresistible stop.
10. Jensen Beach
Nestled on the East Coast of Florida, is another sea glass enthusiast's paradise, Jensen Beach, .
Famed for its beautiful shoreline, it is a promising spot to stumble upon coveted sea glass treasures.
It's not uncommon to come across green or brown fragments of beach glass, while the rare blue or red pieces make for an exciting find.
As always, the most opportune times for sea glass hunting are during low tide and post-storm when the waves bring the hidden gifts of the sea to the surface.
Take a break during the hunt and set up a romantic beach picnic.
Remember to walk slowly, scanning the beach carefully.
Patience could be rewarded with a valuable addition to your sea glass collection.
11. Hutchinson Island
Hutchinson Island, a barrier island on the east coast of Florida, presents a wealth of opportunities for collecting sea glass. This is just one of the reason's it's nicknamed the treasure cost.
With its long, uninterrupted stretches of sandy shoreline, the island offers a tranquil and rewarding experience for both novice and veteran collectors.
Rare blue sea glass and green sea glass are a real treat when discovering sea glass.
The Atlantic currents regularly bring in a variety of sea glass pieces, which are often found nestled among seashells and driftwood.
Early morning or post-storm times are usually the most fruitful for sea glass hunting on Hutchinson Island.
Is It Legal to Take Sea Glass from The Beach?
Sea glass, with its frosted weathered appearance and fascinating provenance, is a sought-after commodity among beachcombers.
However, a question that often arises among new collectors is the legality of removing these treasures.
The answer to this question varies widely depending on the location.
Some areas, such as national parks or protected beaches, removing natural objects, including sea glass, is strictly prohibited.
These laws exist to preserve the natural environment and its beauty for future generations.
In other locales, taking small amounts of sea glass is entirely legal and even encouraged as a means of beach cleanup.
It's essential for collectors to research local regulations before starting their sea glass collection.
The Colors of Sea Glass in Florida
Florida's coastline offers a vibrant palette of sea glass colors.
The most common sea glass colors found in Florida include clear, green, and shades of brown – remnants of beer bottles, soda bottles, and various types of glass bottles and jars.
However, collectors might also encounter less common hues such as sea foam green, light blue, or amber, typically originating from old soda bottles, medicine bottles, or spirits containers.
The coveted and rarest colors for sea glass collectors are red, cobalt blue, and turquoise.
These are often remnants of specialty glassware, old car tail lights, or even historic shipwrecks.
Finding these colors could be a testament to your sea glass hunting skills and patience, not to mention a valuable addition to your collection.
In Conclusion
Sea glass collecting is an intriguing and rewarding hobby.
Each piece tells a unique story of its journey through time and the tides.
Happy hunting, and may your collection continue to grow and inspire.
Now, Go Wander 🙂
What is the rarest color of sea glass?
Orange and turquoise are the rarest colors of sea glass to find.
There were not many containers made out of these colors that have found there way to the ocean.
Reds and yellow come in a close third and fourth.
can you bring glass to the beach in florida?
You can bring glass with you to the beach.
Although sea glass has been tumbled for many years by the ocean.
It is illegal to to litter.
Do not try and add to the oceans sea glass collection.
Find some for your collection.
How do you find sea glass at the beach?
Finding seas glass at the beach takes patience and a keen eye.
Start by turning away from the sun.
Stay towards the shore where the surf keeps the sand wet.
The shimmer of the glass will "pop".