Florida is a beautiful state full of beaches. There are a lot of activities that revolve around beaches, including the best places to find shark teeth in Florida.
If you have ever wanted to start collecting these fossils, you are in the right place.
Many people don't think that hunting shark teeth is a hobby, but in Florida, it is.
We were skeptical about searching for our first shark teeth, but it is an addictive pastime.
Wandering the beaches in Florida for these 10,000-year-old fossils lightens any day once you find them
If you have struggled to find them in Florida you are not alone. We did so in the beginning until we found out the right beaches and times to go.
But that is why we wanted to share these tips and tricks to help increase your chances of finding shark teeth.
It's one of many interesting activities that make Florida an exciting place to visit and spend your vacation.
Best Beaches To Find Shark Teeth In Florida
1. Venice Beach
Venice Beach is often considered the Shark Tooth Capital of the World, and it's arguably the best place to find shark teeth in Florida.
When you are here, you are going to want to start off around the Venice Fishing Pier.
Below and around the pier you are bound to find some shark teeth, especially if you go around low tide.
If you are unable to find some around the pier, there are local Venice boats that will take you out a few miles offshore in search of shark teeth and other finds.
You can also try your luck with scuba diving, there are various shops in Venice that specialize in diving and searching for fossils.
After a great day on the water, be sure to enjoy this incredible place to see the sunset.
2. Amelia Island
Just outside of Jacksonville, you will find Amelia Island, and while the west coast of Florida is more popular with finding shark teeth, the east coast still has some epic spots.
Amelia Island is a barrier island with infamous opportunities, miles of sandy beaches, sea shells, and of course shark teeth.
On the southern end of the island at Fort Clinch State Park, there is usually an abundance of shark teeth to be found.
This is due to the shipping channel nearby that stirs up the underwater world and allows shark teeth to make their way to shore.
After discovering shark teeth all day, there are tons of historical monuments on this island worth exploring.
If you're a Civil War enthusiast, you will love the history of this spot on top of fossil hunting.
3. Casey Key
Casey Key is a barrier island in Sarasota County that is full of white-sand beaches, crystal-clear water, and of course shark teeth.
Nokomis Beach and Jetty Park are two public beach locations where you can hunt for shark teeth fossils.
The crystal clear waters make finding your treasures even easier and more enjoyable. Especially at low tide.
The beach near the entrance can be crowded, but if you walk a bit, you'll find relaxation and empty spots to begin your search.
The most common shark teeth you will find here is from tiger sharks, lemon sharks, and bull sharks.
Sometimes, however, you can find teeth from very rare sharks! That's what makes the hunt so fun.
4. Caspersen Beach
Another mecca for shark tooth hunting is Caspersen Beach just south of Siesta Key.
This secluded beach has many wide open spaces for searching and combing through the sand for this fossils.
Because this beach is much less trafficked than other beaches in the area, you have a good chance of having most of the beach to yourself. Meaning more shark teeth just for you.
Look for shark teeth in peace and quiet.
5. Manasota Key
Located just south of Caspersen Beach, Manasota Beach is quieter than most beaches in the area.
Another great location for shark tooth discovery.
Enjoy the surrounding natural beauty as well as hunting for sea shells and shark teeth.
Stump Pass Beach State Park is a can't-miss spot for its beauty, charm, and opportunity to spot these fossils.
This is the greatest place to find some of the bigger shark teeth out there, including teeth from the Megalodon.
This extinct species had shark teeth anywhere from 4 to 7 inches! You most likely won't find teeth this large, but if you do, consider yourself very lucky.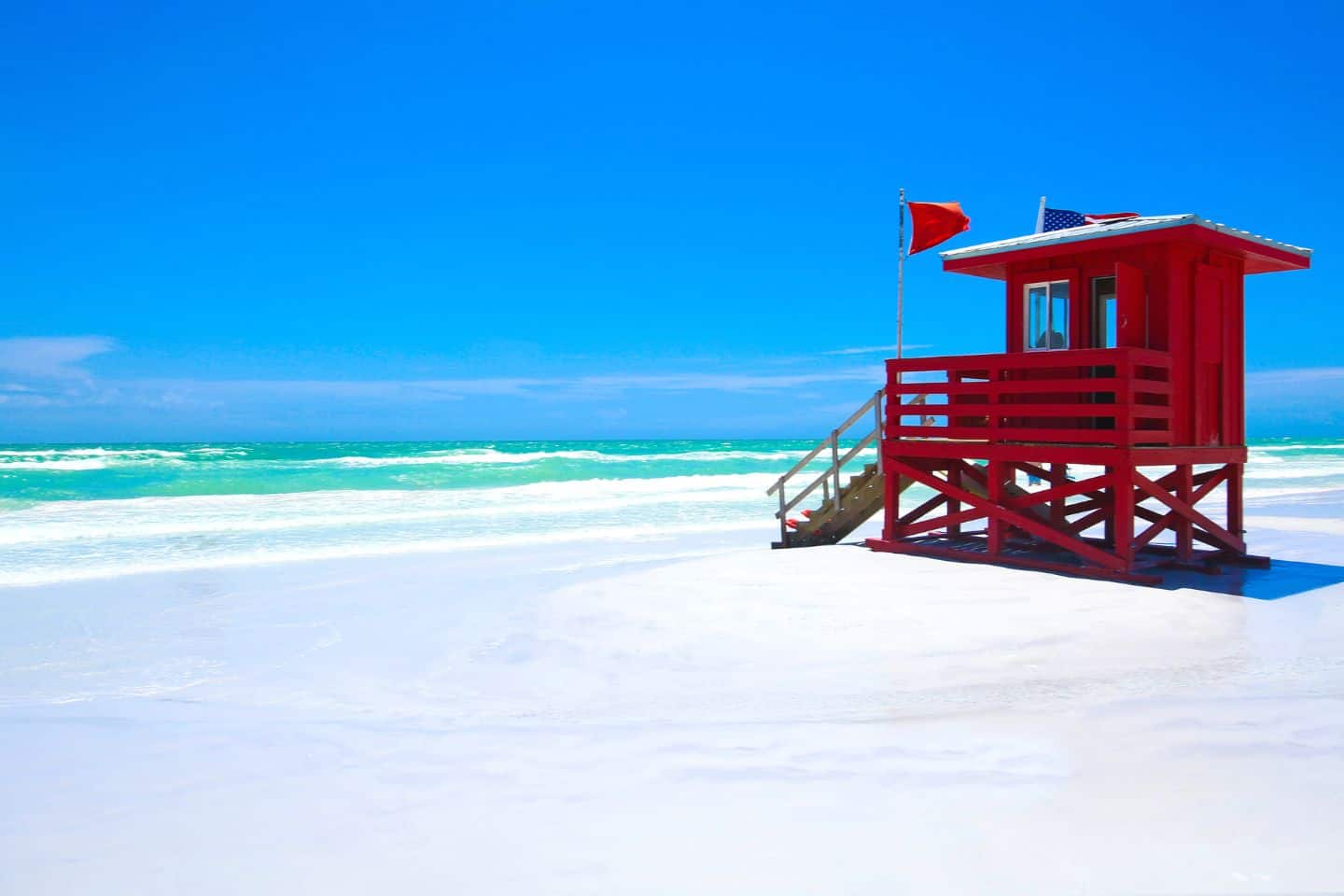 6. Siesta Key
Siesta Key has some of the clearest water in Florida giving you have a high chance of finding at least one shark tooth while searching the shores here.
It is one of the most ideal spots on the gulf coast to search.
The interesting thing about finding shark teeth in Siesta Key is that you might not only find aged fossilized shark teeth, but you may also find teeth of sharks that are still alive today.
This is because sharks produce thousands of teeth each year.
Another great thing about Siesta Key is it's a very safe beach that rarely, if ever, has shark spottings, but for some reason has tons of shark teeth.
Therefore, it's very safe to go swimming.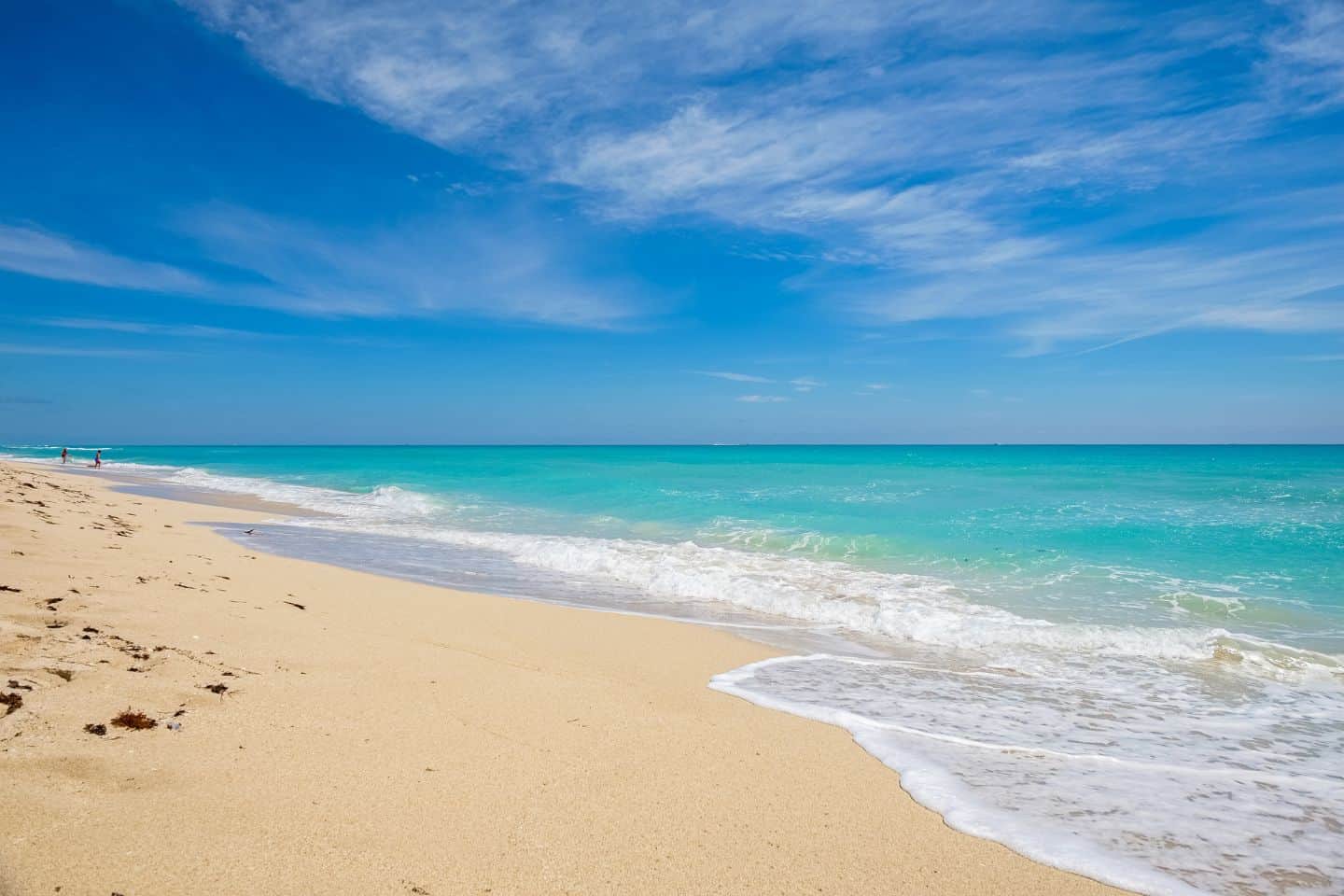 7. Mickler's Landing Beach
This is another beach that is an excellent place on the Atlantic coast that is great for shark teeth hunting.
Here you should find plenty of shark teeth, if you are lucky you might even find a great white shark tooth or maybe even megalodon teeth.
In the same area, Ponte Verda Beach is a great spot, too.
Generally, this entire area brings lots of shark teeth to the surface for you to uncover at any of the nearby beaches.
Get up early and watch the sunrise on the beach while you begin your search.
The earlier you start, the better chance you have of finding shark teeth before other people get to them first.
Also, be sure to go out at low tide so that more of the shore is exposed if you want a better chance of finding shark teeth.
If go at low tide look close to where the water is breaking and you should find some there.
At Mickler's Landing Beach and Ponte Verda Beach, you can find a good amount of shark teeth with every visit.
8. Juno Beach Park, Florida
At Juno Beach, you can pretty much guarantee you'll find at least one shark tooth per hour of searching.
No joke, this is where we search weekly.
Fossilized teeth or prehistoric teeth can be millions of years old. Which is why they turn black.
Dark black teeth indicate the tooth is very old, whereas white teeth are new.
Some of the teeth you find may even be from extinct sharks, but it's hard to tell.
Florida is great to visit year around, and is pretty much endless summer.
Shark teeth hunting is a free, exhilarating, and fun activity to pass the time.
Once you've found one, you will be hooked. Trust us on this one.
Why are Shark Teeth Found in Florida?
Back in the day Florida was submerged underwater, with 1000s of shark swimming above it.
However the water slowly receded, and the land of Florida made its way above ground.
Leaving thousands of shark teeth to be discovered.
The prehistoric sharks died, and their skeletons disintegrated, but their fossilized teeth did not.
Shark teeth can be found all over Florida, especially if you are on the beach at low tide.
Most commonly they are found along the sandy shoreline.
Fossil layers sit in 18-35 feet deep under the surface.
However, when there are storms or waves, the shells are washed away and shark teeth are left behind.
Since shark produce more than 30,000 teeth in their lifetime, and there are billions of sharks over thousands and thousands of years.
That is a lot of shark teeth to be discovered.
Best Time of Year to Find Shark Teeth in Florida
Not so much a time of year, but after a large storm, your chances of finding shark teeth increase.
Storms and waves bring in untouched sand to the shoreline, along with undiscovered shark teeth.
If you head to one of these spots after a storm and at low tide, your chances of finding them will be the highest.
Also the earlier you go out in the morning, the better chances will be.
It also helps if you use a shark tooth sifter that you can find on amazon.
How to Find Shark Teeth in Florida
There are various methods you can use to find shark teeth.
You can bring a sifter or you can hunt with your bare eyes.
The closer to the waterline the better
Go at Low-Tide
Bring a sifter
Look for black amongst the white
When you are ready to identify which shark teeth are which, The Florida Museum has a great ID guide.
Shark teeth come in different shapes, colors, and sizes, and there are local books and guides that will assist you in identifying the various shark species.
What to Do With Shark Teeth?
There are all kinds of interesting things you can do with shark teeth.
You can create art, use them as displays, make jewelry or just put them in a bowl around your house. .
It's a great way to display your findings and share them with others.
Shark tooth hunting is a fun hobby for people of all ages to enjoy.
In conclusion
Hunting shark teeth in Florida is fun.
With the sun on your face and feet in the water you will be sure to have a great day.
With some patience and luck you'll come away with a nice collection!
Happy hunting!


Is it easy to find shark teeth?
Finding shark teeth on a Florida beach is easy.
Take your time and make sure to look closely at everything you sift through.
Once you have your first one, you will develop a keen eye on what you are looking.
where do you find shark teeth in florida?
You can find shark teeth all along the coast of Florida.
There are some locations that are better than others.
Remember that with every wave something new washes up on the shore.
What might have been a dead spot today, could have riches tomorrow.
Related Articles: