Are you looking for the warmest beaches in Florida in January to visit?
If you're seeking the warmest beaches in Florida to visit in January to escape the winter chills, you're in luck.
Often referred to as the "Sunshine State," Florida's coastline is dotted with sparkling sands and sun-kissed shores that continue to bask in warmth during this month.
So when the winter months set in and a beach vacation is on your mind this list should help.
After living in Florida for the last 8 years, we know that it can actually get chilly in January. Like so chilly iguanas tend to freeze out of trees. Seriously look it up. It happens.
That is why we decided to make this list of the warmest places to visit in Florida for the month of January.
These beaches offer a peaceful refuge from the biting winter cold, providing an ideal setting for sunbathing, swimming, or just soaking up the picturesque views.
Stay tuned as we unveil the top picks that should be on your travel itinerary!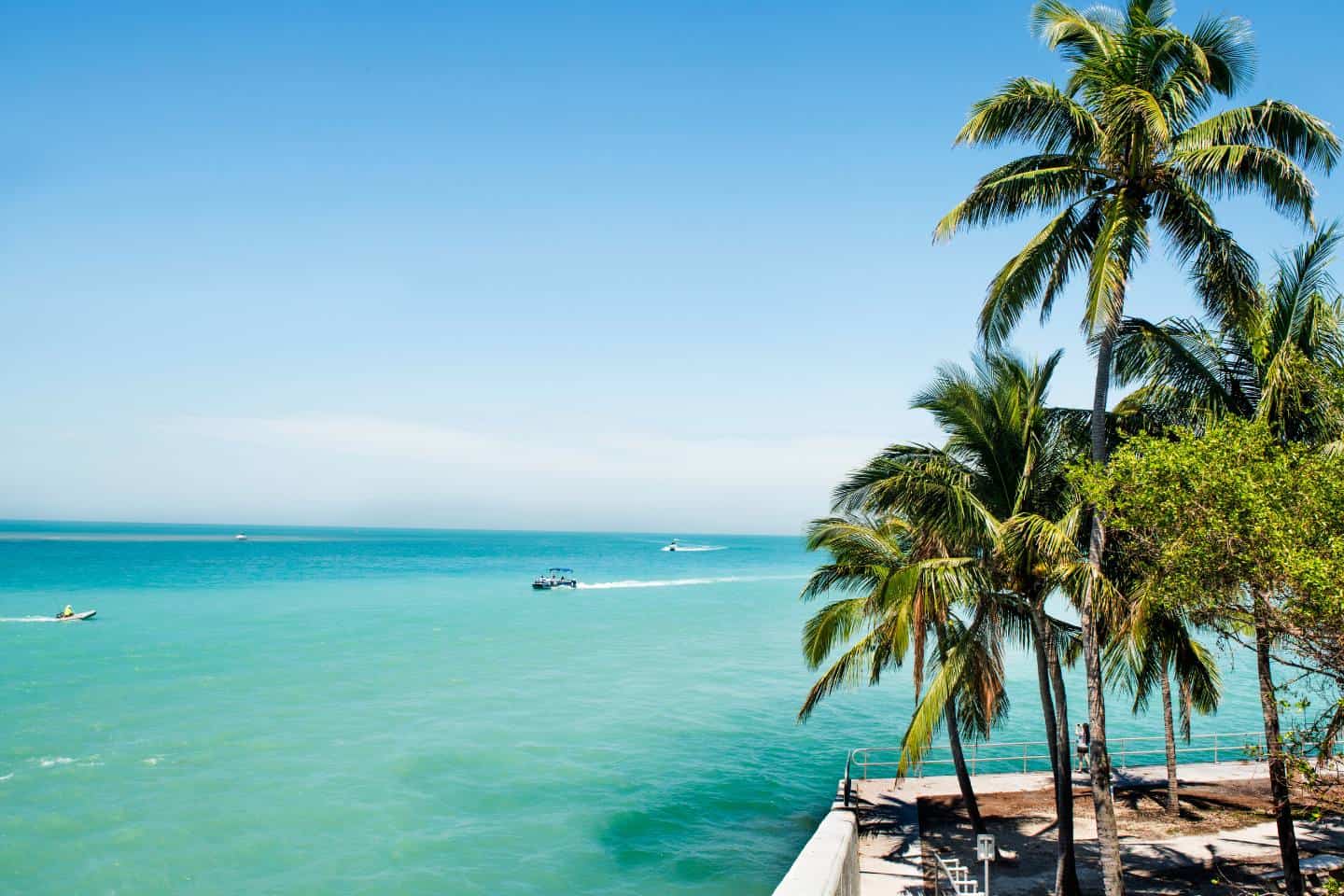 1. The Florida Keys
The Florida Keys are a string of tropical islands stretching about 120 miles off the southern tip of the U.S. state of Florida.
Known for their balmy temperatures, even in the heart of winter, the Florida Keys offer a warm beachside escape in January.
This destination is not just about lounging on the sand; it's also a hub for activities like snorkeling, fishing, and exploring the stunning coral reefs.
Plus, the sunsets here are nothing short of magical, making the Keys a perfect getaway for those seeking warmth and beauty in January. With plenty of activities for couples to do.
🏨 Stay Here – Southernmost Point Guest House – For a cute B&B in the perfect location in Key West with a much-needed pool to cool off in.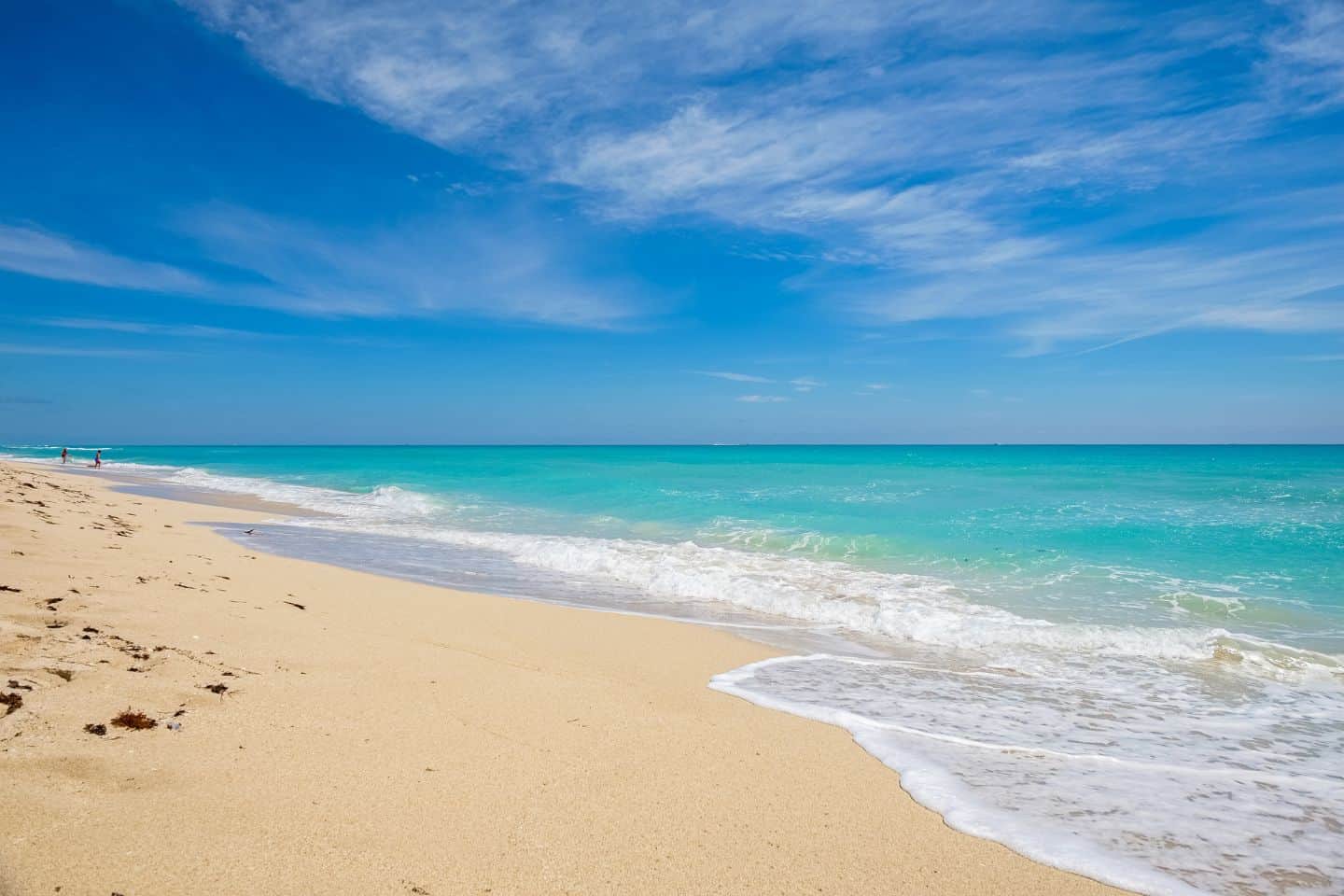 2. Miami Beach, Miami
Another iconic destination with warm beaches in January is Miami Beach.
Known worldwide for its white sandy, clearwater beach, and lively nightlife, Miami Beach stays warm in January, making it an ideal winter escape.
Visitors can enjoy a leisurely swim, sunbathe on the beach, or partake in various water sports.
The Art Deco Historic District, with its eye-catching architecture, and the bustling strips of Ocean Drive, South Beach and Collins Avenue add to the charm of this sun-soaked beachfront city.
Heading to Florida for a romantic getaway for maybe even a special proposal? Click here for the best spots in Miami to propose to your special bae.
🏨 Stay Here – Setai – Luxury on Miami Beach without the party. Relax by one of their pools and just steps from the beach.
3. Fort Lauderdale Beach
Fort Lauderdale Beach is another fantastic South Florida destination to consider for a January getaway.
With its impressive average temperature, it makes for an enticing spot to escape the chill.
This vibrant beach is known for its clean, wide stretch of sand and turquoise waters.
It's a popular place for people watching and volleyball if you are looking for budget activities to do here.
The beachside walk promenade is filled with restaurants, shops, and bars, providing plenty of entertainment options off the sand as well.
With so much to do and see, Fort Lauderdale Beach guarantees a warm and enjoyable January vacation.
🏨 Stay Here – Lago Mar – Perfect location and right on the beach. We send all our family here.
4. Fort Myers Beach
Fort Myers Beach is yet another incredible destination for those seeking a sun-drenched escape in January.
Located on Estero Island, it boasts a pleasant climate and welcomed warmth during the winter months.
Visitors can wash away the winter blues in the sugary sand beaches and the gentle waves which make it a favorite spot of mine.
The famous Times Square shopping district is being rebuilt from the destruction of the 2022 hurricane.
Those interested in marine life can plan a visit to the Ostego Bay Marine Science Center.
From fishing, and shelling, to just lounging on the beach, Fort Myers Beach ensures a fun-filled and warm January trip.
🏨 Stay Here – Diamond Head Beach Resort – Great Hotel on the beach in the center of downtown, that wasn't greatly impacted by Hurricane Ian.
5. Delnor Wiggins State Park Beach, Naples
Delnor Wiggins State Park Beach in Naples is a tranquil and warm haven for those seeking a serene January getaway.
Nestled on the Gulf of Mexico, this park boasts a vast sandy beach, and warm ocean temperatures, that provide an excellent spot for sunbathing, swimming, and shelling.
The beach's warm waters attract a plethora of marine life, offering ample opportunities for snorkeling and fishing.
The park is also home to an array of wildlife, adding an exciting element for nature enthusiasts.
Complete with picnic tables and BBQ grills, Delnor Wiggins State Park Beach ensures a comforting and warm beach experience in the peak of winter.
🏨 Stay Here – Vanderbilt Beach Resort – Right on the beach and only a 15-minute drive into the center of town.
6. Juno Beach Park
Juno Beach Park, located in Palm Beach County, is a picturesque destination for a warm January vacation.
This tranquil spot boasts a wide sandy beach, perfect for sunbathing and beachcombing.
The park also features Juno Beach Pier, a popular spot for fishing where visitors can rent poles and bait.
The Loggerhead Marinelife Center, situated nearby, is a must-visit for its sea turtle rescue and rehabilitation efforts.
With its beachside walking paths, playgrounds, and volleyball courts, Juno Beach Park is the perfect blend of relaxation and leisure for a sunny winter vacation.
🏨 Stay Here – Homewood Suites – Not on the beach, but walking distance to all the best restaurants.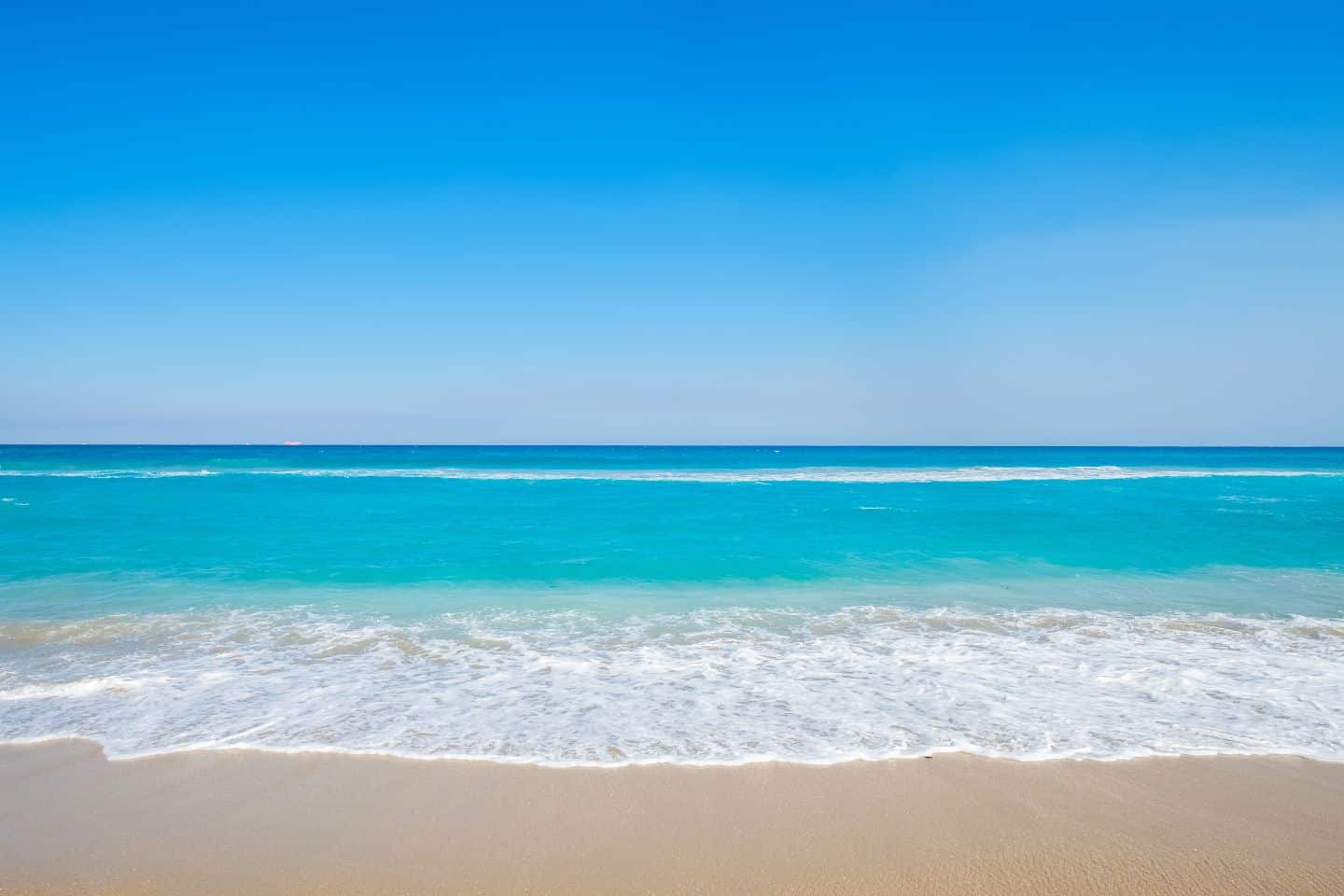 7. Tigertail Beach
Tigertail Beach, located on Marco Island, is an exceptional beach destination to consider for a warm January getaway.
Renowned for its serene ambiance, this beach offers a tranquil alternative to more bustling Florida locales.
Its white sandy shores are fringed by lush vegetation and an extensive lagoon, and the beach is widely recognized for its excellent shell-collecting opportunities.
Wildlife enthusiasts might also be thrilled to spot dolphins, pelicans, and even the occasional manatee.
Whether you're sunbathing, exploring the tidal pool, or kayaking through the lagoon, Tigertail Beach Park on Marco Island promises a memorable and warm winter escape.
🏨 Stay Here – Marco Beach Ocean Suites – The best pool you will find on Tigertail Beach in Marco Island.
8. Palm Beach
Palm Beach is a must-visit destination for those seeking warmth in January.
Famous for its high-end boutiques and long, sandy beaches, this location offers more than just a sun-soaked getaway.
The average temperature in January hovers around a comfortable 75 degrees Fahrenheit, making it an inviting choice for sunbathing, beach games or simply enjoying the stunning Atlantic coast views.
🏨 Stay Here – The Breakers Palm Beach – It doesn't get much better than this, hotel is pictured above.
9. Smathers Beach
Smathers Beach, a top-rated destination located in Key West, is an idyllic spot for a warm January escape.
When escaping the cold weather, Key West is a true winter beach vacation destination.
This longest beach is known for its soft, white sand and calm, clear waters – ideal for a variety of water sports including swimming, snorkeling, and kayaking. Key West is the perfect romantic getaway.
The average temperature in January is a comfortable 70 degrees Fahrenheit, providing a perfect atmosphere for beach leisure activities.
Enhancing the appeal are several vendors who rent out beach equipment, and food trucks offering delectable local cuisine, making your stay in Smathers Beach a convenient and enjoyable one.
Whether you're relaxing under the palm trees, participating in an energetic game of beach volleyball, or watching an unforgettable sunset, Smathers Beach promises a unique and warm winter haven.
🏨 Stay Here – Margaritaville Hotel – Another epic spot in the Florida Keys.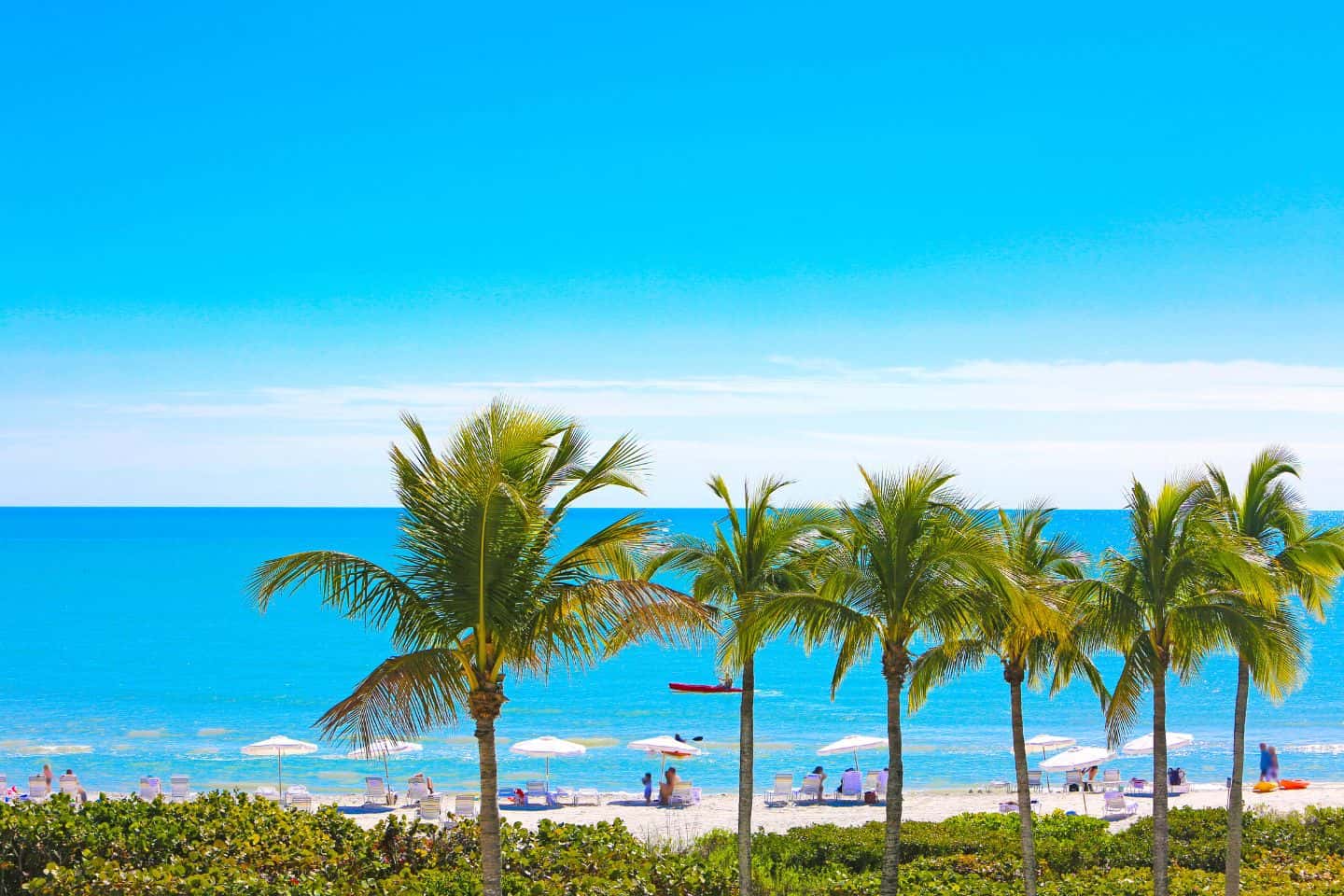 10. Sanibel Island
Sanibel Island is a true paradise for warm-weather beach lovers and shell collectors.
This must be on your list of the best Florida Beaches.
This small Floridian Island boasts stunning, soft sandy beaches that are considered among the best in the world for shelling.
In January, the island's temperatures average in the pleasant mid-70s Fahrenheit, making it a fantastic spot for a warm winter getaway.
Here, visitors can enjoy peaceful strolls along the Gulf Coast shoreline, bird-watching in the Ding Darling National Wildlife Refuge, or cycling through the Island's extensive network of bike trails.
With its laid-back atmosphere and natural beauty, Sanibel Island offers a tranquil retreat from the bustle of everyday life.
🏨 Stay Here – Seahorse Cottages – ADULTS ONLY – The perfect romantic getaway on Sanibel Island.
11. Delray Beach
Delray Beach is a gem among Floridian beaches that promises a warm retreat even in the heart of winter.
Known for its vibrant arts scene, Delray Beach offers a unique blend of natural beauty and cultural richness.
In January, the average temperature gracefully sits around a balmy 74 degrees Fahrenheit.
This allows visitors to not only enjoy sunbathing and water sports, but also explore the bustling downtown area with its array of galleries, boutiques, and restaurants.
🏨 Stay Here – Crane's Boutique Hotel – Luxury tropical boutique hotel with two saltwater pools on the property.
Conclusions On The Warmest Beaches In Florida In January
In conclusion, Florida's beautiful beaches offer a respite from winter's chill, serving as sun-drenched sanctuaries for both relaxation and adventure.
Smathers Beach offers a dynamic environment with amenities that cater to various tastes, while Sanibel Island appeals to those seeking tranquility and a connection with nature.
Delray Beach, with its lively art scene and inviting downtown area, provides a unique blend of cultural and coastal experiences.
Whichever you choose, each of these warm January escapes promises an unforgettable experience, making Florida's beaches a premier winter destination.
What Is the warmest beach to visit in Florida in January?
Key West is the warmest beach you can visit in Florida in January. This is the closest part of Florida to the equator and will have the warmest weather in all of Florida. So if you are looking for warm. This is your place.
Which Coast of Florida is warmer in January?
The further south you are in Florida the warmer the weather is going to be. If you are looking for warmer sea temperatures, the Gulf Coast is going to be slightly warmer than the Atlantic side.
Can you swim in Florida in January?
Yes! You can swim in January. The water does get a little chilly, but as long as you stay south of West Palm Beach sea temperature should be around 75 degrees Fahrenheit.
Related Articles: